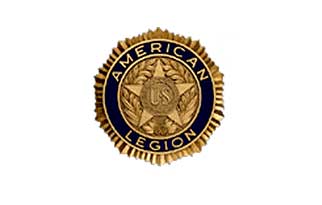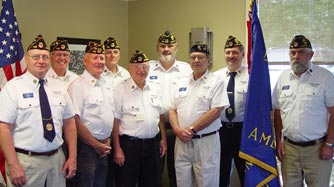 American Legion Post 149
Hours:
Meets the Second Saturday
of the month at 10:00 AM
at the Woodbridge Inn
Breakfast at 9:00 AM
---
GENERAL INFORMATION
Post 149 Officers:
Commander ~ C. Ray Smith
Senior Vice Commander ~ Richard L. Rice
Junior Vice Commander ~ Homer Sewell
Adjutant ~ Jim Elrod
Finance Officer ~ Ron Wheeler
Judge Advocate ~ Jim Brescia
Chaplain ~ Walter Champlin
Service Officer ~ Bob Reitz
Historian ~ Steve Whitt
Sgt. at Arms ~ Virgil Coe
Flag Disposal Box
American Legion Post 149 constructed a flag disposal box and placed it at the Community Thrift Store, located at 110 Samaritan Drive just off Highway 53 near the Health Department in Jasper. The box is located at the corner of the building next to the drop-off point for the Thrift Store. It is painted red, white and blue and is labeled as a "Flag Disposal Box". Our Post collects the old worn out American flags that are placed in this box and passes them along to Hill City Boy Scout Troop 288. The scout troop then disposes of the flags on their camping outings using the proper ceremony and honor that is so justly deserving of our American Flag, at that time.
NEWS & PRESS RELEASES



Legionnaires and Senior Center Share Float in Parade (7/5/2016)

There was hardly an empty spot on Main Street as the cheering crowds enjoyed the 4th of July parade celebrating our American heritage. As each float ...



Veterans Benefit Seminar (6/25/2016)

Veteran Support Groups including Veterans Administration, National Cemetery, Veterans Court, American Legion, Military Order of the Purple Heart, DA...



Pickens County American Legion Post 149 2016-2017 Officers (6/25/2016)

Pickens County American Legion Post 149 2016-2017 officers begin their post today. They were elected at the May monthly meeting at Woodbridge Inn. ...



American Legion to Host Veterans Benefits Seminar This Saturday (6/22/2016)

It's no secret to anyone that Pickens county residents are patriotic. You see it in the special ceremonies throughout the year honoring our heritage ...



Upcoming Veteran Benefits Seminar Open To All Veterans (6/13/2016)

All military veterans young and old are invited to participate in the American Legion Post 149 sponsored veteran benefits seminar to be held at Chatta...



American Legion Post 149 Recognizes Bargain Barn For Their Support (6/13/2016)

Incoming Commander Ray Smith and officers of American Legion Post 149 present to Bargain Barn General Manager Cynthia Spriggs and store associates a b...



American Legion Post 149 Honors Sue Wheeler (6/13/2016)

American Legion Post 149 honored outgoing Commander Ron Wheeler's wife, Sue Wheeler, last Saturday at Woodbridge Inn during their monthly meeting with...



Little League Baseball Team Thanks Legion for Support (6/13/2016)

American Legion Post 149 is all about veterans helping veterans. But that is not the entire story. They are also there to help support the community...



American Legion to Honor Local WWII Vets at Spring Fling (4/20/2016)

According to the Department of Veterans Affairs, approximately 430 WWII veterans die every day. At that rate, these patriotic heroes will soon only b...



American Legion Celebrates 97 Years of Service (3/15/2016)

March 15 is the birthday of a very special organization in our community, state and nation. It is the day the American Legion was first conceived and...
Support KnowPickens.com by utilizing our Advertisers that Support Us! Shop Pickens First!
Tell them you found them on KnowPickens.com


To make changes, add a photo/logo or enhance your listing with a link to website, more pictures,
more information, banner ads and more please email info@knowpickens.com.