Pickens County TEA Party ~ Jasper, GA 30143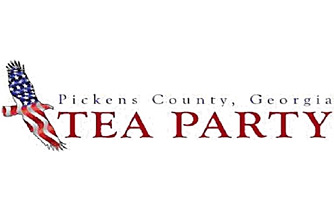 Nancy Davis
Publicity Committee
PHONE
706-253-3937
Pickens County TEA Party
Hours:
4th Tuesday each month
7-9 p.m.
www.pickenscountyteaparty.com
Group of concerned citizens who meet to educate, inform, and motivate to
learn how to impact and change local, state, and federal politics
---
NEWS & PRESS RELEASES



Tea Party Talk: United Nations (8/22/2017)

The United Nations has been a controversial subject in the United States for several years. Many people believe the UN has overstepped its authority ...



Tea Party Talk: Georgia's 6th Congressional District Election Night (5/22/2017)
Meeting on May 23, 2017 at Johnny's Pizza
A special election will be held on June 20, 2017, to determine the member of the United States House of Representatives for Georgia's 6th congressiona...



Tea Party Talk (4/18/2017)
Meeting on Tuesday, April 25th
Double your knowledge of important issues of the day at our next Tea Party meeting. We have TWO guest speakers who will continue to bring news that i...



TEA PARTY TALK: Educate Before You Vaccinate (3/23/2017)
Meeting on March 28th
You are invited and urged to attend the March 28th meeting of the Pickens County GA Tea Party. We are pleased to have a special guest speaker, who is...



Tea Party Talk (1/23/2017)
Meeting on Tuesday, January 24th
The National Federation of Republican Assemblies (NFRA) was formed in the 1930's - a sort of "Tea Party" before the current Tea Party captured the hea...



Movie Night at the Pickens Tea Party (10/17/2016)
Tuesday, October 25 at Chattahoochee Technical College
The October 25th monthly Pickens Tea Party meeting will be MOVIE NIGHT and the public has the opportunity to choose the movie. The choices are: 20...



Tea Party Talk (10/11/2016)

Local and national Tea Party groups are often taken to task by well-intentioned citizens—in the form of "Letters to the Editor" in their community new...



Pizza and the Pickens Tea Party (9/15/2016)
Meeting September 27, 2016
Do you like pizza and other Italian fare? Our September Tea Party meeting will be a little different—we will meet for dinner at Johnny's New York Piz...



Pickens Tea Party Not Dumping Tea, But Protesting Government Overreach (7/26/2016)
Meeting tonight starting at 7 p.m.
Don't let the Summer heat stop you from participating in the greatest grassroots effort since the Boston Tea Party on December 16, 1773! Yes, you reme...



Tea Party Talk: Who's to Blame? (6/23/2016)

Gunman Omar Mateen opened fire early Sunday, June 12, 2016, inside The Pulse gay nightclub in Orlando, Fla, in what is believed to be an act of radic...
Support KnowPickens.com by utilizing our Advertisers that Support Us! Shop Pickens First!
Tell them you found them on KnowPickens.com


To make changes, add a photo/logo or enhance your listing with a link to website, more pictures,
more information, banner ads and more please email info@knowpickens.com.