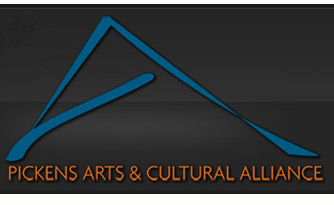 Pickens Arts and Cultural Alliance (PACA)
Hours:
24 Hours via Website
Pickens Arts and Cultural Alliance (PACA)
PHONE 706-692-6690
1266 E. Church St, Ste 189
Jasper, GA 30143
www.pickensartsandculturalalliance.org
PACA is an umbrella organization which was established to give support
and assistance to existing arts and historic preservation organizations.
---
NEWS & PRESS RELEASES



Pickens Arts and Cultural Alliance Annual Meeting to be Held (4/23/2017)

According to PACA President, Amelia McIntyre, the group's annual meeting will be held Monday, April 24, 2017 at 5:30 pm. This year's theme is "Step F...



PACA Hosting Youth Art Month in March (2/15/2017)
Exhibit on display March 23-25, 2017
Creative works from Pickens County art students in grades K through 12 will be on display at The Pickens County Community Center on Camp Road. This mu...



Meet Artist Jeanette Bottari (6/11/2016)

Meet Clay and Fiber Artis - Jeanette Bottari as part of Pickens Arts and Cultural Alliances' Guide to the Arts - Summer 2016. Jeanette moved to Picke...



Art Pickens - Artist Gathering (4/9/2016)

Art Pickens 'Artist Gathering', sponsored by Pickens Arts and Cultural Alliance (PACA), is an opportunity for local artist to meet, demonstrate and se...



For the love of arts and culture (2/26/2015)
PACA Annual Meeting
Join your neighbors at the Pickens Arts and Cultural Alliance Annual Meeting on March 5th to hear from many different voices in the community. Art, m...



Noteworthy: Justin Davis (2/14/2015)

Persistence, determination, talent and an abundance of faith are words that come to mind when I think of Justin Davis. A big man with a big heart, Da...



Meet the Artist: Potter C Larry Wilson (1/17/2015)
January 25, 2015, 3:00-5:00 PM at Talking Rock Pottery
Join PACA as they celebrate the Winter 2014-15 Featured Artist, potter C Larry Wilson of Hobson Creek Pottery and Talking Rock Pottery. Lots to see an...



PACA Host Artist of the Quarter - Sharp Mountain Vineyards Open House (10/21/2014)

Pickens Arts and Cultural Alliance will host an evening of wine tasting, light hors d'oeuvers and music by The Orange Walls at Sharp Mountain Vineyard...



Good Old Days are Here & Now! (7/25/2014)
Meet the Historians of the Old Schoolhouse at Talking Rock
PACA is pleased to invite you to chat with Pickens County historians who will escort us on a journey back in time. This "Meet the Artist" event highl...



Share ideas and hear about plans for the arts and culture in Pickens (2/9/2014)
2014 Annual Meeting on Thursday February 13 at 5 pm
If you care about the arts, culture, history, and the natural heritage of Pickens County – we hope you'll join us next week to meet up with other like...
Support KnowPickens.com by utilizing our Advertisers that Support Us! Shop Pickens First!
Tell them you found them on KnowPickens.com


To make changes, add a photo/logo or enhance your listing with a link to website, more pictures,
more information, banner ads and more please email info@knowpickens.com.