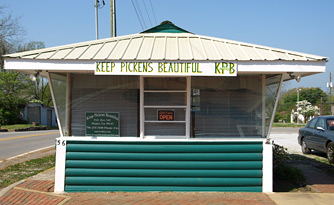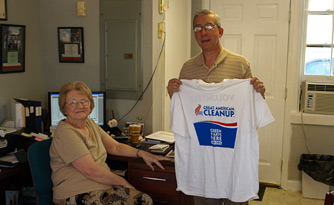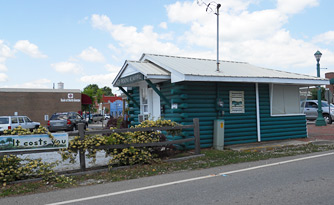 Keep Pickens Beautiful
Hours:
Monday & Wednesday
9am-2pm
---
NEWS & PRESS RELEASES



Document Shredder is Back April 15 (4/13/2017)

The Keep Pickens Beautiful Shredder is back on Saturday, April 15th from 9 a.m. until noon. Come shred and clean up after tax season. Shred and recycl...



Pickens County Emergency Center 911 Joins KBP Recycling Program (4/11/2017)

Keep Pickens Beautiful is pleased to add another new member to our recycling program. Pickens County Emergency Center 911 has joined in our efforts re...



Tire Amnesty During the Month of April For Pickens County Residents (3/31/2017)

Pickens County residents only, may take four (4) scrap passenger tires off the rims, maximum per family, to the Pickens County Recycle Center on Camp ...



April Proclaimed as Great American Cleanup Month (3/28/2017)

April is proclaimed as Cleanup Month. Pickens County Commissioner Chair Robert Jones, signed a proclamation designating April as clean-up month. Kee...



Keep Pickens Beautiful Receives Two Awards (3/14/2017)

Keep Pickens Beautiful is proud to announce we have received two awards for outstanding work here in Pickens County. ◌ The Governors Circle...



Pickens County Inmate Work Detail at Work (3/10/2017)

Under the supervision of Joey Hancock with the Sheriff department, the inmate work detail worked 3 days picking up most of Henderson Mountain Road. He...



What Does A Mountain Of Metal Look Like? (3/8/2017)

Keep Pickens Beautiful would like to say thank you to all those who created this mountain of metal. The metal at Self Recycling Center is a sample of...



Place Construction Joins Keep Pickens Beautiful Recycling Program (1/31/2017)

Keep Pickens Beautiful is pleased to add a new business member to our recycling program. Place Construction relocated here in Jasper about a year ago,...



Bring One For The Chipper is January 7, 2017 (12/26/2016)

Area residents will go green and drop off Christmas trees to be chipped into mulch or used as a wildlife habitat on January 7, 2017. The event educate...



Want to save 75% on Electric Bill this Christmas? (11/30/2016)

According to Home Depot, by changing out your old Christmas lights, and replacing them with new LED lights you can save up to 75% on your energy bill....
Support KnowPickens.com by utilizing our Advertisers that Support Us! Shop Pickens First!
Tell them you found them on KnowPickens.com


To make changes, add a photo/logo or enhance your listing with a link to website, more pictures,
more information, banner ads and more please email info@knowpickens.com.