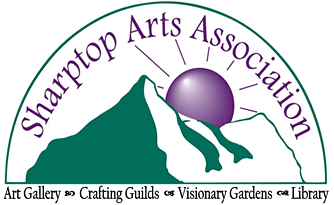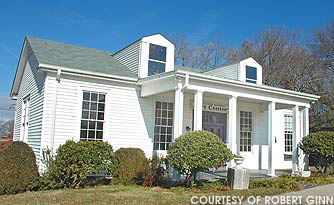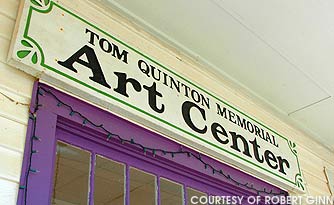 Sharptop Arts Association
Hours:
Art Center Hours:
Wednesday Noon - 4 pm
Thursday • Friday
12 pm - 4 pm
Saturday
10 am - 2 pm
Sharptop Arts Association
PHONE 706-692-0101
68 D.B. Carroll Street ~ Jasper, GA 30143
sharptopartsassociation.org
Offering classes (Yoga, Painting, Drawing, etc.), Workshops, Exhibits and Cultural Events.
---
GENERAL INFORMATION
The Sharptop Arts Association is a 501 non-profit community driven arts organization which was created to stimulate and encourage appreciation of all the fine arts and further help development of the arts and crafts in Pickens County. The S.A.A. governing Board of Directors is made up of concerned artists and citizens of the public and as such represent the wide scope and diversity of the regional arts community.
Through numerous classes, workshops, exhibits and cultural events the Association strives to provide a balanced but diverse program of art opportunities for all the people of Pickens County and the extended community in north Georgia.
Instructional fine art Classes and hands-on workshops are usually held at the Quinton Art Center in business district of Jasper, Georgia - including sculpture, pottery, painting, photography, basket weaving, ceramics, theater, philosophy and yoga, to name but a few of the ever expanding programs offered at Quinton by S.A.A. Most workshops, classes, and lectures are offered on Saturdays so as to accommodate the needs of the greatest number of citizens of our growing community by making the programing easily accessible and affordable to one and all.
Sharptop fine arts exhibitions feature a wide variety of local and regional artists in a assorted set of media. Each public exhibition has an opening night reception where the community has the opportunity to meet the artist in that exhibition. Artwork is generally on display every weekend at the Art Center, with most of the original works presented being for sale by the artists. for an extended period of time.
History
The Sharptop Arts Association was founded by Tom Quinton, assistant principal of the Pickens Elementary School, in 1976. Mr. Quinton, an artist, was interested in preserving our north Georgia mountain areas arts and crafts in a permanent location which was accessible to those interested in all the regional arts. In 1980 the historic building which now houses the Association was deeded to Sharptop Arts Association and named the "Tom Quinton Memorial Arts Center" in his lasting honor, and for the purpose he intended.
LEVEL OF MEMBERSHIP
Individual $25
Family $40
Bronze $100

Business $100
Cornerstone - $500

Benefactor $1,000

Download Membership Form (PDF)
NEWS & PRESS RELEASES



Kids After School Art (3/19/2015)

Chef Gerard from Madeline's Cafe joined the Kids After School Art Class to make Food Art. Celebrating National Youth Art Month, Ms. Kathe & Miss Deb...



Input Needed from Sharptop Arts Association (11/21/2014)
Complete the anonymous Sharptop Arts Member and Community Survey (Opens in new window)
Sharptop Arts Association wants to hear from event-goers, artists, community members, and board members by completing an anonymous survey...



11th Hour for Shartop Arts Center's Survival (10/9/2014)

For more than thirty years Sharptop Arts Center has been home to Pickens County's only non-profit arts venue but without fresh leadership from Pickens...



Bent Tree Shutterbugs Photography Exhibit Opens August 1st (7/30/2014)
Opening Reception Friday, August 1st from 5-7:30 p.m.
Bent Tree Shutterbugs Photography Exhibit opens at Sharptop Arts Center on August 1st and runs through the 28th. The Opening Reception will be hel...



Sharptop Art Center, along with Co-Sponsor Creative and Performing Arts Academy Present Summer Sounds Concert (7/24/2014)
Jordan Grassi, joined by Val Hoyt and Josh Arruda
Jordan Grassi is a Key West native. Jordan Grassi, is a singer/songwriter who has quickly made a name for herself in the Southeast. With musical infl...



Join the Sharptop Art Association Brunch Bunch (7/1/2014)
Next art instruction workshop is July 24th
The Sharptop Arts Brunch Bunch June's workshop was 'PAINT A MINI-CANVAS' under the instruction of Artist, Sulaine Sims. An acrylic painting was create...



Sharptop Arts Association June Newsletter (6/16/2014)
Sounds of Summer starts June 19th
In this Issue: Youth Art Calendar, Open Gallery from June 15th - July 26th, Sounds of Summer Series Starts June 19th with Jeff Bianchi, Sulaine Sims ...



Vangoghs Summer of Art Camp (6/13/2014)

...



YOUTH ART CALENDAR TO DEBUT (6/4/2014)
Commemorative Sponsorships Available
Sharptop Arts Center, home to the annual Youth Art Month event that showcases student art from every Pickens County School and Wildwood Christian Acad...



April Showers..Mountain Flowers (4/25/2014)

...
Support KnowPickens.com by utilizing our Advertisers that Support Us! Shop Pickens First!
Tell them you found them on KnowPickens.com


To make changes, add a photo/logo or enhance your listing with a link to website, more pictures,
more information, banner ads and more please email info@knowpickens.com.