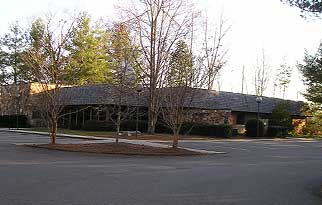 Pickens County Health Department
Hours:
Monday, Wednesday, Thursday
7:30 a.m. - 4:30 p.m.
Tuesday 7:30 a.m. - 7:00 p.m.
Friday 7:30 a.m - 1:00 p.m.
Pickens County Health Department
PHONE 706-253-2821
60 Health Way ~ Jasper, GA 30143
---
GENERAL INFORMATION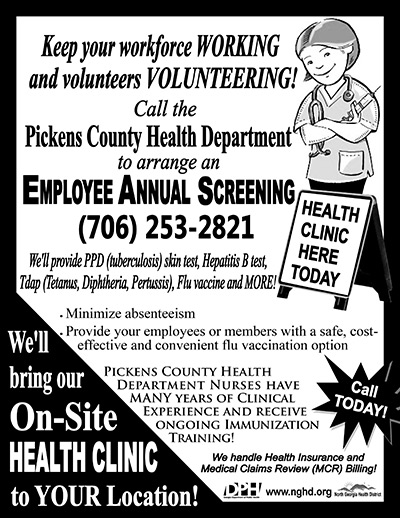 NEWS & PRESS RELEASES



High Temperatures in Georgia Raise Health Concerns (6/23/2015)
Heat Exhaustion, Hot Cars and Overexposure to Sun Pose Significant Threats
(ATLANTA) – With temperatures expected to be in the mid 90's throughout the state for the next several days, the Georgia Department of Public Health (...



Immunization Requirements for 7th Graders (6/15/2015)

Seventh graders are now required to have the tetanus, diphtheria, and pertussis (Tdap) and meningococcal (meningitis) vaccines prior to entering schoo...



Protect The Ones Who Cannot Protect Themselves (4/18/2015)
National Infant Immunization Week is April 18 - April 25, 2015
National Infant Immunization Week (NIIW) is April 18 – April 25, 2015, and North Georgia Health District 1-2 of the Georgia Department of Public Healt...



Dog protects Pickens County woman from rabid raccoon (4/17/2015)

As a rabid raccoon attempted to attack a Pickens County, Georgia woman, her dog leapt to the rescue, saving her from harm. According to Jan Stephen...



***NOTICE: Pickens County Health Department Closed Thursday & Friday (2/19/2015)

Pickens County Health Department will be closed the rest of today, Thursday, February 19th, and tomorrow, Friday, February 20th, due to problems with ...



Health officials still urge you to get your Flu Shot (1/23/2015)

Have you had your flu shot yet? Flu activity is high in Georgia and the peak of the flu season is still ahead. The Centers for Disease Control and Pre...



UPDATE: Pickens County Health Department Has Reopened After Waterline Break (1/9/2015)

The Pickens County Health Department in Jasper has reopened today, Friday, January 9, 2015, after repairs were made to a broken waterline break that o...



Strategic National Stockpile (SNS) Transportation Security Plan tested in North Georgia (1/9/2015)

(DALTON, GA) – The local Strategic National Stockpile (SNS) Transportation Security Plan was tested on Thursday, January 8 in a functional exercise le...



Drive by and Arm against Flu in north Georgia (9/18/2014)
Public Health Drive-by Flu Shot Clinics offer 4-in-1 Flu Shot & High-Dose!
Drive by and arm against four strains of flu this fall at a Drive-by Flu Shot Clinic in north Georgia. Fast, safe, and convenient, the Drive-by Flu...



Indoor Tanning Substantially Increases Skin Cancers OR - Dying for a Tan? (8/27/2014)

Years ago an acquaintance in her early twenties made frequent use of indoor tanning booths. She noticed a dark, reddish, irregular mole on her left si...
Support KnowPickens.com by utilizing our Advertisers that Support Us! Shop Pickens First!
Tell them you found them on KnowPickens.com


To make changes, add a photo/logo or enhance your listing with a link to website, more pictures,
more information, banner ads and more please email info@knowpickens.com.