Rotary Club of Jasper

P.O. Box 39 ~ Jasper, GA 30143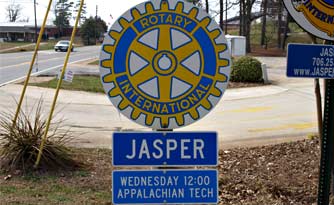 Regina C. Martin
2017-18 President
PHONE
706-253-1830
Rotary Club of Jasper
Hours:
Every Wednesday at noon
at Chattahoochee Technical College.
www.jaspergarotary.org


Service Above Self

Making Dreams Real
---
NEWS & PRESS RELEASES



Southern Appalachian Folk School Presented to Jasper Rotary (2/26/2018)

Larry Wilson is a founding member of the Southern Appalachian Folk School. In his opening remarks to the Rotary Club of Jasper, he said that the Scho...



Native American Regalia (2/19/2018)

Rich Panyik is an artist and so much more. He is a highly recognized creator of museum quality pieces of native American regalia. On Wednesday, Fe...



Eagle Scouts are Rare (2/11/2018)

Local Eagles Scouts honored by the Rotary Club of Jasper at their February 7, 2018 meeting for Eagle Scout Recognition Day. Did you know? For e...



Taking Rotary on the Road (1/17/2018)

We took the Rotary Club of Jasper on a road trip and didnít even have to leave the building! It just so happens that, like Rotary, the Pickens County ...



Humor in Georgia (and other places) (12/31/2017)

Despite his extreme enthusiasm for the LSU Tigers, John Sneve is a good man. Surrounded at Rotary by a pack of avid Georgia Bulldog supporters, John ...



Ringing the Bell for Rotary (12/18/2017)

I donít know what it is about ringing a Salvation Army bell that brings out the Spirit of Christmas in me. I get the whole Jimmy Stewart movie ďItís ...



Rotary Tours Pickens 911 (12/11/2017)

Commission Chair and fellow Rotarian Rob Jones gave Rotary a very interesting guided tour of the Pickens County 911 Command Center and the Emergency O...



Doing Good in the World (12/4/2017)

Don Martin wears a lot of hats. Jasper Rotarian, Assistant Governor, and District Governor Nominee are just three of them. I donít know exactly which...



Rotary Peace Pole Dedication Video (5/24/2017)

Dedication of the Peace Pole in Rotary Club of Jasper's Peace Park within Roper Park in Jasper, Georgia. Ceremony held on May 24, 2017 inside the Pic...



Giving Thanks (4/26/2017)

Rotary Club of Jasper would be remiss in fulfilling test two of our 4-way test (Is it fair to all concerned) if we did not acknowledge those gave so m...
Support KnowPickens.com by utilizing our Advertisers that Support Us! Shop Pickens First!
Tell them you found them on KnowPickens.com


To make changes, add a photo/logo or enhance your listing with a link to website, more pictures,
more information, banner ads and more please email info@knowpickens.com.