4-H Poultry Team Takes Home Third Place
ADVERTISEMENT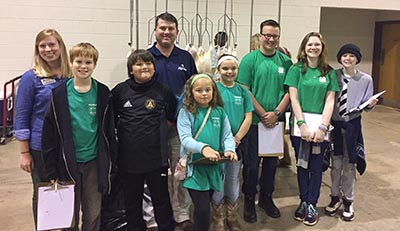 L-R: Rachel Wigington (county agent), Patrick Harp, Conner Watson, Coach Corey Watson, Jenna Pamphile, Shaelyn White, Caelyn Wykoff, Emma Sebastiani, Aaron Sebastiani. Not pictured: Colin Watson.
5/11/2017 ~ by Rachel Wigington, County Extension Coordinator

On May 4th, the Pickens County 4-H Poultry Judging Team traveled to Lexington, Georgia to compete at the district Poultry Judging Competition. Out of twenty teams, Pickens County came home with third place! Oconee County came in first place, and Baldwin and Habersham tied for second place.

4-H team members spent February-May learning about how to judge live chickens and eggs for commercial processing. Students learned how to judge the quality of live laying hens, processed cuts of meat, processed whole birds, egg candling, and interior/exterior egg quality. The coach was Mr. Corey Watson.

The Pickens County Extension Office is so proud of the team and would like to say "thank you" to Pilgrims for donating the supplies needed to train for poultry judging.

Along with our junior team coming in third place, Pickens also had high individual scoring. Conner Watson tied for 6th place out of 94 students, and Caelan Wykoff placed 7th out of 42 seniors. We are so proud of our team. Great job!



MORE NEWS ------ BACK TO PICKENS COUNTY 4-H