Summer Food at the Jasper Farmer Market
ADVERTISEMENT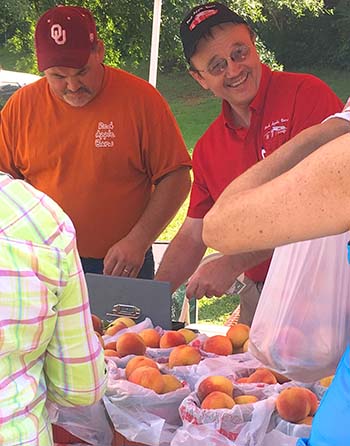 Barry Pritchett, Red Apple Barn (red shirt) enjoys a conversation with a customer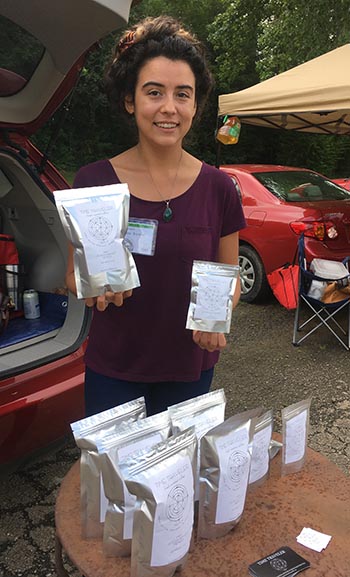 Stephany Valdez, herbalist, shows off her hand made coffees and teas


7/12/2017 ~ by Darla Huffman

Fresh corn and ripe red tomatoes made their appearance at the market and were very popular with the crowd. An always impatiently awaited duo may sell out early, but should increase in the following weeks barring uncooperative weather.

Dr Chester's Animal Medical Clinic will be at the market this month on July 22, a week later than scheduled so mark your calendar and let your friends know.

Stephany and Meghan Valdez are sisters working together to create fresh roasted coffee ad hand crafted tea. They don't sell it to drink at the market but to enjoy at home. I am not a coffee drinker but I bought some of the tea, called "Energy" and am looking forward to drinking it as soon as I finish this article. So far the sisters have had one sister selling at the Wednesday market and the other at the Saturday market.

Peaches, another impatiently awaited icon of summer also made their first appearance of the year on Saturday. Red Apple Barn, a family owned and operated orchard and store in Ellijay, have been bringing their delicious peaches to he farmers market for several years now and has a lot of customers eager to see them.

The Jasper Farmers Market eager is a project of the Pickens County Master Gardeners. The Spring and Summer Season takes place every Saturday morning (April through October) and Wednesday morning (June 14 through August) from 7:30 am to 12 noon in the Park n Ride lot at Lee Newton Park on Hwy 53 in Jasper, with the exception of the July 4 and Marble Festival activities.

For more information call the County Extension Office at 706 253 8840.



MORE NEWS ------ BACK TO PICKENS COUNTY MASTER GARDENERS