Celestial Event to Eclipse School Day for Pickens Students and Staff
ADVERTISEMENT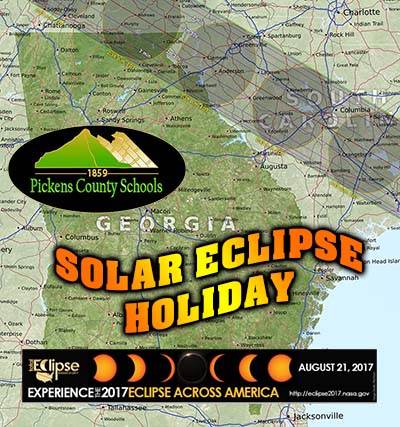 How to Safely Watch a Solar Eclipse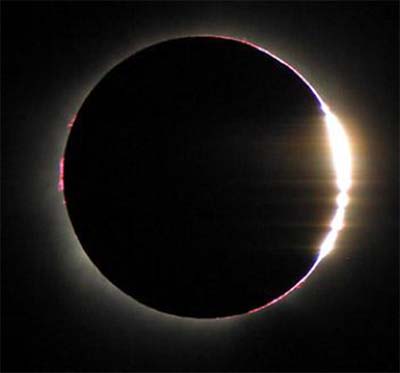 Sunlight peeks through the low points on the moon's jagged edge during the 2002 total solar eclipse, creating a phenomenon known as Baily's Beads. Credit: Arne Danielson


7/31/2017 ~ by Keith Petty

On August 21, a once-in-a-lifetime event, a total eclipse of the sun, will occur over much of the United States, including North Georgia. While only Rabun and Stephens Counties, in the northeast corner of the state will experience the centerline of totality, Pickens County will experience 97% coverage, still quite a spectacle in itself. Given the timing and rarity of the upcoming sun show, Dr. Carlton Wilson, superintendent of Pickens County schools, has declared the day a school holiday for all students and employees.



On the given date, the display will begin In North Georgia at approximately 1 :05 p.m., with the sun gradually covered by the moon until its climactic peak at 2:36 p.m. This will be followed by a gradual return to normality between 3:30 and 4 p.m. For school days, this time frame coincides with dismissal of schools and bus routes, which would preempt experiencing the eclipse for a majority of the student population. Additionally, GEMA (Georgia Emergency Management Agency) predicts 100,000-plus visitors to the North Georgia area, which could hamper bus routes and emergency responders in the event of an accident. In consideration, the best interest of students is simply to allow a day of leisure for enjoying the phenomenon.

In the interim, many teachers may be discussing the eclipse with their students. Of the utmost importance during the eclipse is safety. It should be noted that vision is of particular concern. During the eclipse, special glasses (available at many stores) should be worn for viewing. Though the sun may not appear as bright during many phases of the eclipse, looking at It with the naked eye is just as dangerous as doing so would be on a cloudless day. Direct eye exposure to the sun's rays can cause permanent damage, including blindness, so take time to research proper viewing methods and prepare accordingly.

As a final note, many communities in North Georgia are offering festivities and fun in relation to the eclipse. Rabun County will be sponsoring the Outasite Total Eclipse Festival. It begins on Saturday evening, August 19, with bluegrass music on the square in Tallulah Falls, includes a Sunday afternoon eclipse golf tournament, and educates with a Sunday evening classroom session on the eclipse at the Rabun Gap Nacoochee School. Tallulah Gorge State Park and Black Rock Mountain will offer ideal viewing sites. McCaysville and Blue Ridge are on board, with pontoon rentals available for a Lake Blue Ridge eclipse outing; and, most notably, Dillard, Georgia features the Dillard House for lodging and home-cooked food to accompany a full 2 minutes and 38 seconds of epicenter totality.

The eclipse is an experience that most of us will never have again, so why not start planning today? Take the opportunity of a three-day weekend to group with family and friends and to enjoy the spectacular display. Dr. Carlton Wilson, Pickens County Board of Education members, and all Pickens schools employees wish students, their families, and their friends a safe and happy holiday.
MORE NEWS ------ BACK TO PICKENS COUNTY PUBLIC SCHOOLS BOARD OF EDUCATION/ADMINISTRATION