Lots of Tomatoes at the Farmers Market
ADVERTISEMENT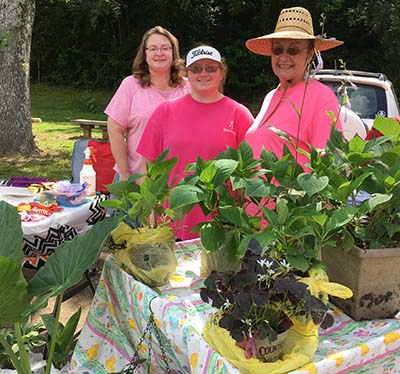 Three generations of vendors: Kim Smith, Sarah Smith, and Brenda West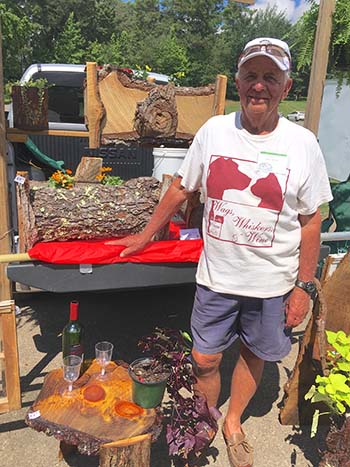 Original, one of a kind decor accessories handmade by Jerry Robey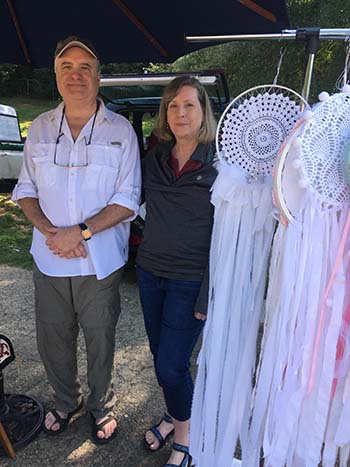 Wonderful new look for dream catchers made by Robecca VanDoran wife of Orea our long time friend the flute maker


8/8/2017 ~ by Darla Huffman

If the name Brenda West sounds familiar, she sold plants at the market a few years ago and now has returned, bringing her daughter, Kim Smith, and granddaughter, Sarah Smith; three generations of talent. The big large-leafed, attention getting plants were Brenda's. Sarah, taking after her grandmother had smaller plants and off in another direction, Kim had original hand made greeting cards. Come by and say hello if you still have some plants you bought from Brenda a few years back.

Rustic planters were popular. I saw a couple going out and overheard a customer ordering one she wanted made. Jerry Robey also makes other rustic furniture, using sabs of bark as well as wood, just right for the cabin home or patio. He lives in Ellijay but comes down to our market a few times every year.

There were plenty of green beans and blueberries at the market on Saturday and that is a good indication that there will be some of the same at the Wednesday market so if you were too late to get any then, try again Wednesday. They need more customers. Parking is mostly in the shade. Almost everyone is friendly.

The Jasper Farmers Market is a project of the Pickens County Master Gardeners. The Spring and Summer Season takes place every Saturday morning (April through October) and Wednesday morning (June 14 through August) from 7:30 am to 12 noon in the Park n Ride lot at Lee Newton Park on Hwy 53 in Jasper, with the exception of the July 4 and Marble Festival activities.

For more information call the County Extension Office at 706 253 8840.



MORE NEWS ------ BACK TO PICKENS COUNTY MASTER GARDENERS