Pickens County Chamber of Commerce's July Breakfast
ADVERTISEMENT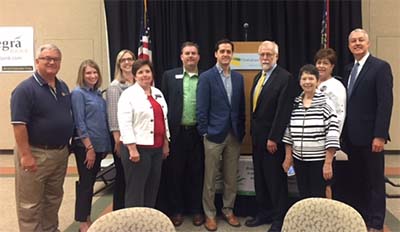 Sponsor - Chattahoochee Technical College) with speaker - Jason O'Rouke from the Georgia Chamber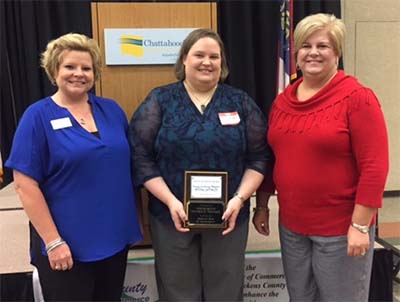 Community Bank of Pickens County with recipient of Small Business of the Month - Nancy Cochran Maddox Attorney at Law, P.C


8/17/2017 ~ by Rachel Whitman, Pickens Chamber of Commerce

The Pickens County Chamber of Commerce hosts a monthly Community Breakfast that is open to Chamber members as well as the public. The most recent breakfast was held Tuesday, August 8th, 2017. Attendees arrived to a delicious breakfast catered by Chick fil A and enjoyed networking with the many people in attendance before beginning the program.

Donna Torres, the Board Chair for the Pickens County Chamber of Commerce did the welcome and then Dr. Carlton Wilson with Board of Education did the Invocation. Which was followed by our new member welcome by Matt Youngblood: Whitestone Shutter Company, Windsor Lodge Assisted Living, and Appalachian Auto Brokers. We encourage the community to reach out to these new members and learn about the services they offer. In addition, Augusts' Small Business of the Month, a program sponsored by Community Bank of Pickens County, was awarded to Nancy Cochran Maddox Attorney at Law, P.C.

The August Chamber Community Breakfast was sponsored by Chattahoochee Technical College. Dr. Ron Newcomb, President for Chattahoochee Technical College spoke about the Technical College. He then introduced the speaker Jason O'Rouke with the Georgia Chamber. O'Rouke, talked about what the future holds for Pickens County.

After the sponsor remarks and speaker, the program was concluded by giving away door prizes.

The Pickens County Chamber of Commerce hosts a monthly breakfast with the next scheduled breakfast on September 12th. This is a fantastic opportunity for members as well as the public to network and make business connections. For Community Breakfast pricing and registration, please call 706-692-5600 or visit our website www.pickenschamber.com.



MORE NEWS ------ BACK TO PICKENS COUNTY CHAMBER OF COMMERCE