The Pickens Report - September 2017
ADVERTISEMENT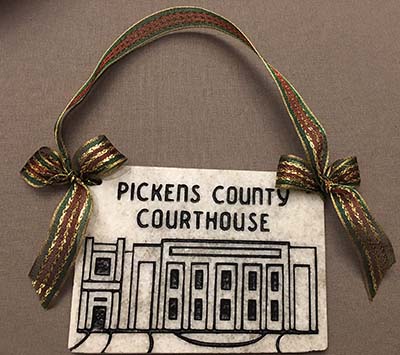 Courthouse ornament by David Carver of Watkins & Carver Memorials for the Governor's Mansion Christmas tree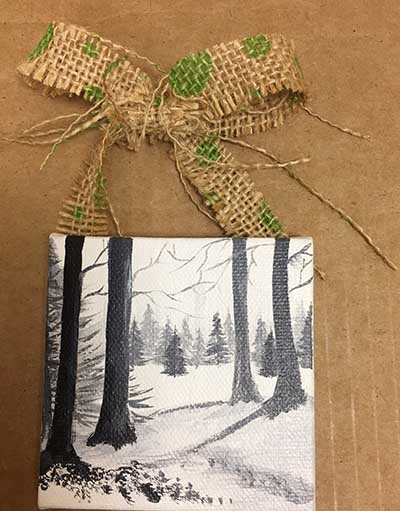 Ornament by Ella Prince a Senior at Pickens High School
for the Governor's Mansion Christmas tree


10/11/2017 ~ by Tucker Green, Pickens County Government

During the month of September, several areas in Pickens County experienced the effects of Hurricane Irma. The storms heavy rain and powerful winds brought down trees, debris, and caused wide spread power outages. Luckily, public officials were prepared: Pickens County Emergency Management, Public Works, Fire/EMS, Water Department, Sheriff's office, and others had collaborated to respond properly.

The public servants acted quickly to clear roadways, and within five days had all roads open. After the initial clearing, Public Works was tasked with the remaining cleanup efforts around the county: clearing right-of-way, chipping trees, and other damage repairs. Pickens County Public Works completed their cleanup efforts on September 29th. The various public servants, public safety officials, and utility workers did an excellent job of responding to the storm.

Additionally, during September local ornaments were created as part of Georgia First Lady Sandra Deal's annual Governor's Mansion Christmas décor theme. The First Lady requested that each Georgia county create an ornament displaying their local courthouse. She also requested that each county submit an ornament made by a local student.

Pickens County submitted a marble ornament with the Pickens County Courthouse engraved on it. David Carver of Watkins & Carver Memorials created the marble ornament. After receiving submissions from local students; Ella Prince a Senior at Pickens High School was selected for the winning ornament.

The marble ornament created by Carver, and the ornament made by Prince will both be displayed on the Governor's Mansion Christmas tree. Also, local students Zoe Martin and Megan Stancil were selected as finalists, and their ornaments will be placed on the Pickens County Administrative Building Christmas tree.

During September, several employees were recognized for their many years of service: Jeff Duke 20 years with the Sheriff's office, Cindy Fountain 10 years with 911, and Larry Stephenson 10 years with Fire/EMS.

The Pickens Animal Shelter brought in 70 new animals, and 99 went out through various forms of adoption.

The 911 Operations Center received 1,775 total calls, 453 were medical responses, and 326 were fire related.

The Water Department installed 8 new water meters. The Department of Planning and Development issued 32 new building permits.

The Pickens County Recreation Department will end basketball registration on October 15th, however, a late registration period will be open October 16 – 18 for a $10 late fee. If you are interested in serving as a youth volunteer basketball coach, contact PCRD at 706-253-8863.

The Road Department will soon be tar and graveling Pettit Road (dirt section), and paving Tilley Road, Swan Bridge Road, Harrington Road, and Pea Ridge Road.

SPLOST collections continue to come in steadily. The current SPLOST began in July of 2014 and will run through June of 2020. Total SPLOST collections to date are $13, 243, 653.51 these dollars go to fund capital projects as designated in the 2014 SPLOST referendum. Currently the SPLOST revenues are slightly below the estimated total six-year projections, however, SPLOST projects are continuing as planned.

Overall the Pickens County government departments are working hard for the citizens of Pickens County. The Pickens County Board of Commissioners continue to do a great job of leading these efforts. As work progresses, and projects continue, I will do my best to keep you informed of these developments.

Until the next time, stay safe, and shop local!




Tucker Green
Public Information Officer
Pickens County Government
1266 East Church St., Ste. 157
Jasper, Ga 30143
tgreen@pickenscountyga.gov
MORE NEWS ------ BACK TO PICKENS COUNTY BOARD OF COMMISSIONERS