How You Can Honor Our Veterans
ADVERTISEMENT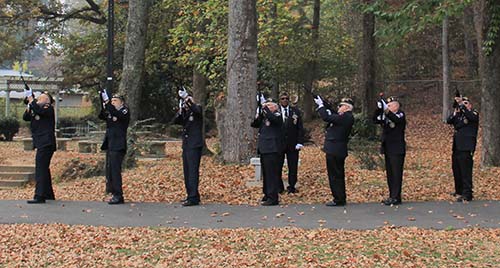 21-Gun Salute at Ceremony in 2016


11/7/2017 ~ by Suellen Reitz

November 11 marks the 79th year our nation has officially recognized and honored our veterans for their service and sacrifices with the official Federal holiday known as Veterans Day. The history behind its origin gives even more significance to this day of thanking those who served.

Congress declared the day to officially be recognized in 1938 as a day to honor those who served in WWI, calling it "a day to be dedicated to the cause of world peace and to be thereafter celebrated and known as 'Armistice Day'." WWI ended on the 11th hour, the 11th day and 11th month with the armistice between Germany and allied nations in 1918. However it was not the war to end all wars as had been expected, and after WWII and Korea, congress changed the name to Veterans Day in 1954 to honor all American war veterans year after year.

Here in Pickens County, we honor our veterans on that day with parades, speeches and a special lunch served at Mountainside Piedmont Hospital. Its a special day for all veterans and its a day we should all take time to remember their sacrifices and say thank you.

We all know actions speak louder than words, so here's how you can help our veterans feel the love…

Come to the parade and wave your flags proudly as parade participants march down Main Street. The parade begins at 10:a.m. Flags will be passed out by members of the Marine Corps League and Sons of American Legion.

This year's Grand Marshall is Don Russell. Russell, an Army veteran and Army Civil Servant for 35 years has been very active in Pickens through his philanthropic efforts. Through the sales of the Pickens Thrift Store which he founded 18 years ago, $5, 432,186 has been given back to the community for those in need. He is also responsible for the startup of the Boys and Girls Club. While speaking with Russell, he stated he was very humbled and honored to serve as Grand Marshall… "I owe all of my success over the years to my military background. It was there I gained the skills and confidence to never look back…"

If you've not yet registered to be part of the parade, last minute positions are still open. Contact American Legion parade coordinator Steve Whitt at 404 387-4109 or email stevewhitt@etcmail.com for details.

The ceremony following the parade will begin at 10:45 in Lee Newton Park at the gazebo with foot stomping patriotic music provided by our local radio station WYYZ. The local Boy Scout Troop will conduct the Presentation of the Colors while the National Anthem is sung by Andrea Layne. The invocation will be made by retired minister Max Caylor. Patriotic students of Jasper Middle and Pickens High winning the essay and art contests will be recognized and the crowd will rock to the Jasper Middle School Choir as they sing Boogie Woogie Bugle Boy.

Guest Speaker for the ceremony is Kevin Wince, a Navy veteran currently serving as the State Vice Chair and Training Director for the DOD Agency Employer Support of Guard and Reserve. With 10 deployments as part of the U.S. Naval Submarine Serve, Wince's story is riveting in his multitude of assignments. He is currently active in assisting veterans through the Returning Warrior Workshops as a trainer and facilitator.

While at the park, you'll see the progress of Pickens County Veterans Memorial. The dedication for this project was postponed to allow the ceremony to be held once the memorial is completed. But work is still progressing and thanks goes out to the many citizens who have helped raise funds through the many donations now over $80,000. Veteran Honor Bricks can still be ordered with the tax deductible donation of $125 for each 4x8 engraved brick. For more info, go to pickensvetmemorial@gmail.com.

Following the ceremony, our veterans and a guest are invited to enjoy a great lunch at Mountainside Piedmont Hospital. The veterans have been recognized for over 11 years with this luncheon and if you ask any veteran who has been there…. it's one you don't want to miss.

Of course we all should take time to thank our veterans every day of the year… Veterans Day is the official day of thanking our living veterans while Memorial Day is about honoring those who died… Lets all make sure we let our vets know our love and appreciation and make Veterans Day 2017 a memorable day for all.



MORE NEWS ------ BACK TO PICKENS COUNTY VETERANS WEBSITE