District 18-L Diabetes Chairman Attends Jasper Lions Club
ADVERTISEMENT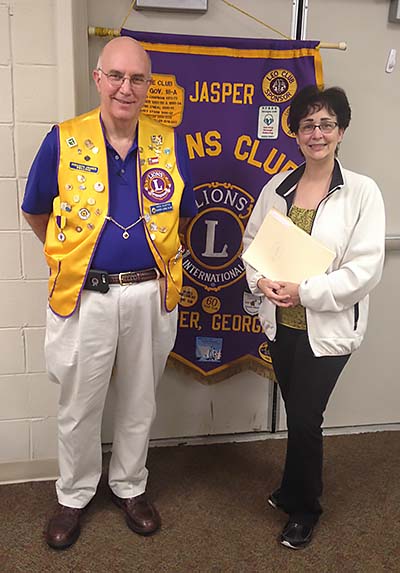 Jasper Lions Club President Ken Austin with Michele Benoit, Lions Club District 18-L Diabetes Chairman.
11/12/2017 ~ by Margo Austin

On November 9th, the Jasper Lions Club hosted Michele Benoit. District 18-L Diabetes Chairman of the Georgia Lions Club. She has been a member of the Lions Club for 10 years and is currently a member of the Pauling-West Cobb Club. In her role as District Diabetes Chairman, she is helping Lions Clubs, who have always led the fight against blindness, to be aware of the danger Diabetes poses to vision.

The World Health Organization estimates that 420 million people currently suffer from Diabetes. By 2040, that number could be 645 million! Diabetes is THE LEADING CAUSE of the onset of blindness. It can also affect your heart, kidneys, cause amputations of lower limbs, and nerve damage.

The month of November is Diabetes Awareness Month with November 14th as the focus day. The World Health Organization, the National Institute of Health, Centers for Disease Control and Medic Alert Foundation have all endorsed the Lions Club effort to increase awareness of the disease.

As Diabetes Awareness Chairman, Michele encourages Lions Clubs to partner with local hospitals and pharmacies, etc. to provide screening clinics to identify those at risk of Diabetes. The Jasper Lions Club is very proud that we sponsor a Health Fair every April that provides this screening. Piedmont Mountainside is our partner in providing this service.

Michele is also encouraging us to get involved with the STRIDES project that encourages people to log their laps at walking tracks in the community. We are going to investigate doing just that.

Thank you Michele for a very informative program!

The Jasper Lions Club meets the 2nd and 4th Thursday of each month at 7 PM in Walker Hall at the First Baptist Church of Jasper. We will not meet again this month until Dec. 14 due to the Thanksgiving holiday. Please call 706-253-LION (5466) if interested in joining us. Our mailing address is Jasper Lions Club, Box 1088, Jasper, GA. 30143. We have begun work on Fill A Stocking and would love to have you join us.



MORE NEWS ------ BACK TO JASPER LIONS CLUB