Almost Ready To Reveal: Those Crazy Ladies in the House on the Corner

$10 First Timer Ticket
ADVERTISEMENT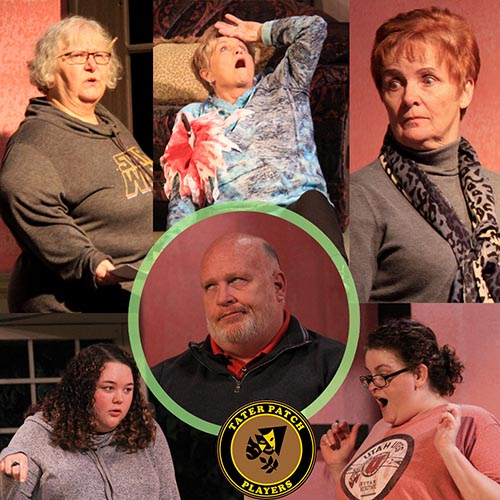 Clockwise from top: Jackie Agers, Sharon Young, Alana Barnes, Jessie Ray, Jan Simpson, and Gary Boyles, center.
1/31/2018 ~ by Nan Nawrocki

Tater Patch Players' cast of our upcoming comedy are almost ready to reveal their show to you. It's a wonderful comedy about three "older" sisters who have ended up sharing the family home after living their own full lives.

Those of you who have sisters might recognize some of their behavior. Beyond finishing each others' sentences, they have a habit of talking at the same time. Sharon Young, Jackie Agers and Jan Simpson have mastered their lines to the extent that they can say them over the lines of their other two "sisters". When you hear them "at it", we guarantee you'll laugh out loud.

Their family doctor, played by Gary Boyles, has found a reason to worry about them, which will be revealed as the show goes on. "Doc" convinces them to let his new nurse, Jean, played by Alana Barnes, rent their spare bedroom. She's a little overwhelmed by the three sisters, but remains true to her "mission" that Doc has given her. Her boyfriend, Calvin (Wil Nix) is not overwhelmed by the three "crazy little old ladies"... at least until Halloween rolls around.

One of the sister's daughter, Phyllis (Jessie Ray) seems to be a real estate hawk in disguise, and is generally ignored by her mother and aunts as she threatens to sell the family home. The sisters, who don't shop (or go out) much, get regular grocery deliveries by "Blu", played by Hannah Landreneau. She manages to ignore ALL the craziness. And everything rolls along, despite the visit of a homeless woman, Jessie, played by Nancy Loy. When we see her again, she'll bring a LOT of surprises for everyone.

Now that we've got your attention, if you've never been to a Tater Patch Players' show, isn't it time to remedy that? We're helping you with a $10 First Timer ticket. If you've already been, introduce one (or more) of your friends who need to learn what quality entertainment is available right here in Jasper.

Tater Patch Players offer you three full weekends, nine shows, of performances for every production this year. This gives everyone who prefers the Sunday matinee an extra opportunity to see the show. February 8 will be our dress rehearsal/Share Night when members of the community who cannot afford tickets right now can see the show and share with the less fortunate of the community by bringing cans of nonperishable food for the CARES food pantry.

Regular performances are February 9, 10, 11, 16, 17, 18, 23, 24, 25. The three Sunday performances are at 2PM and the rest, including Share Night, are at 7:30. Tickets for the performances may be bought in advance at taterpatchplayers.org or on the Tater Patch Players Facebook page, or at the door beginning one hour before curtain on each performance date. Prices are $18 for adults, $16 for seniors, $14 for students and $10 for First Timers.

If you have any questions leave a message at 706-253-2800 or email at taterpatchplayers@gmail.com.



MORE NEWS ------ BACK TO TATER PATCH PLAYERS THEATER