The Pickens Report - January 2018
ADVERTISEMENT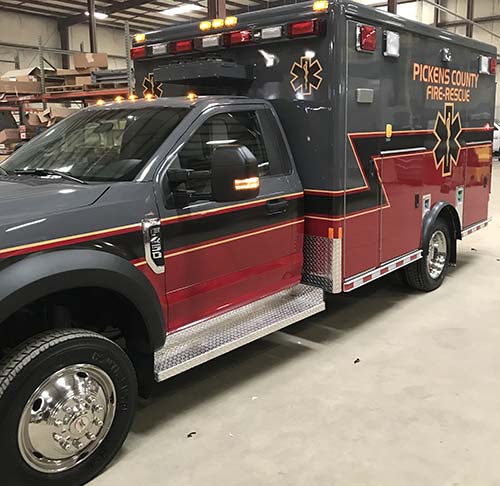 New look for the two new Pickens County ambulances
2/9/2018 ~ by Tucker Green, Pickens County Government

The start of a new year comes with lots ahead for Pickens County government. Several projects will advance in 2018 including: the construction of Pickens County Fire Station #12, the search for additional fire station properties across the county, a hefty paving schedule, water line extensions, and much more that is developing.

Most of these projects are funded through SPLOST (Special Purpose Local Option Sales Tax) funds, which are designated capital outlay projects. Our current SPLOST began in July of 2014 and will conclude in June of 2020. Total collections from July 2014 through November 2017 total $14,407,243. The current collections are slightly behind estimated projections; however, projects are continuing as planned. Please see the attached breakdown of SPLOST revenues and expenditures for additional information.

During the month of January, the Pickens Animal Shelter brought in 42 animals, and 49 went out through various forms of adoption. Animal Control responded to 25 cases.

The 911 Operations Center received 867 total calls.

The Water Department installed two new water meters.

The Department of Planning and Development issued 37 new building permits.

Also, during January, Pickens Fire/EMS received two new remounted ambulances with new decals to better serve the citizens.

The Pickens County Recreation Department is currently taking signups for spring baseball, softball, and t-ball. The cost is $85 for baseball and softball leagues 7/8, 9/10, and 11/12. T-ball leagues are ages 3/4, and 5/6 the cost is $75. The deadline is February 18th. A late registration period will be available February 19th through February 25th for a $10 fee.

If you're interested in being a volunteer coach, contact PCRD at 706-253-8863. The Road Department is completing routine maintenance around the county, and prepping roads for the spring paving season.

The Pickens County government departments continue to stay busy working for the citizens of Pickens County. The Pickens County Board of Commissioners continue to do a great job of leading these efforts. As work progresses, and projects continue, I will do my best to keep you informed of these developments.

Until the next time, stay safe, and shop local!




Tucker Green
Public Information Officer
Pickens County Government
1266 East Church St., Ste. 157
Jasper, Ga 30143
tgreen@pickenscountyga.gov
MORE NEWS ------ BACK TO PICKENS COUNTY BOARD OF COMMISSIONERS