'CRAZY LADIES' Opens at Tater Patch

Plus, auditions coming up for next show
ADVERTISEMENT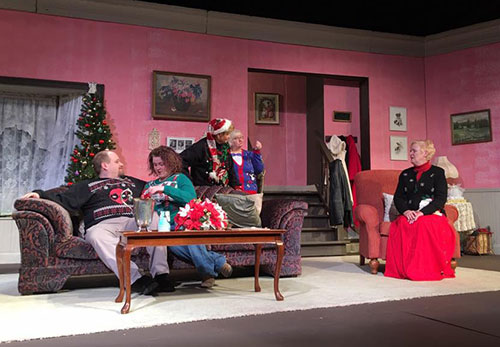 Tater Patch Players 'CRAZY LADIES'

What are you doing on this rainy weekend? Tater Patch Players invites you to see Those Crazy Ladies in the House on the Corner" by Pat Cook. Have you ever seen live theater? There is a a special $10 for First Timers. Performances are February 10, 11, 16, 17, 18, 23, 24, 25. The three Sunday performances are at 2 PM and the rest, including Share Night, are at 7:30. Tickets for the performances may be bought in advance at taterpatchplayers.org or on the Tater Patch Players Facebook page, or at the door beginning one hour before curtain on each performance date. Prices are $18 for adults, $16 for seniors, $14 for students and $10 for First Timers. If you have any questions leave a message at 706-253-2800 or email at taterpatchplayers@gmail.com.

Posted by KnowPickens.com on Saturday, February 10, 2018
2/8/2018 ~ by Nan Nawrocki

It's time to shake off the wintertime blues and have a laugh. Tater Patch Players invites you to see Those Crazy Ladies in the House on the Corner" by Pat Cook. The wonderful comedy about three sisters opens on February 9 for nine performances. Get your tickets online now or at the box office on performance dates. If you've never been to our theater, buy a specially discounted "First Timer" ticket.

Tater Patch Players offer you three full weekends, nine shows, of performances for every production this year. This gives everyone who prefers the Sunday matinee an extra opportunity to see the show. Regular performances are February 9, 10, 11, 16, 17, 18, 23, 24, 25. The three Sunday performances are at 2PM and the rest, including Share Night, are at 7:30.

Tickets for the performances may be bought in advance at taterpatchplayers.org or on the Tater Patch Players Facebook page, or at the door beginning one hour before curtain on each performance date. Prices are $18 for adults, $16 for seniors, $14 for students and $10 for First Timers. If you have any questions leave a message at 706-253-2800 or email at taterpatchplayers@gmail.com.

If you've got the acting "bug" yourself, please come out and audition for Tater Patch's second show of the season Death by Design by Rob Urbanati. The auditions will be February 11 and 12 from 6 - 8 PM at the theater. This is a light-hearted murder mystery filled with great comedic characters. Auditions will be by cold readings from the script. The play will be directed by Jan Simpson The cast consists of 4 men and 4 women of varying ages and parts of varying sizes. Show opens April 6 for 3 weekends. Bring your enthusiasm, take a chance, audition!



MORE NEWS ------ BACK TO TATER PATCH PLAYERS THEATER