The Pickens Report - March 2018
ADVERTISEMENT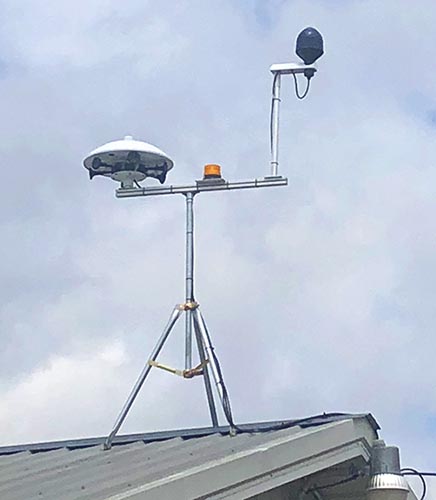 The new Thor Guard Weather Warning System to monitor weather during recreational activities at Roper Park.
4/11/2018 ~ by Tucker Green, Pickens County Government

Spring has arrived in Pickens County. This time of year, is marked with beautifully blooming foliage across the county. In the spirit of the season, Pickens County Government is collaborating with Keep Pickens Beautiful for "Tire Amnesty April". This recycling program allows for any Pickens family to recycle four tires (off the wheel) for free. The tires can be recycled at the Pickens Recycling Centers off Camp Road and Cove Road throughout the month of April.

Additionally, during the month of April, Pickens County Government is taking bid applications for the 2018 asphalt paving project. The project is set to pave 61 roads throughout Pickens County. Bid packets can be picked up at the Pickens County Administrative Building. All bids are due by 1:00 p.m. on the 27th day of April.

During the month of March, the 911 Operations Center received 1,672 total calls, 464 were medical responses, and 288 were fire related.

The Pickens Animal Shelter brought in 99 animals, and 90 went out through various forms of adoption. Animal Control responded to 25 cases.

The Department of Planning and Development issued 55 new building permits.

The Water Department installed three new meters.

The Road Department is performing routine road maintenance, and prepping roads for the upcoming paving season.

The Pickens County Recreation Department is full-swing in the 2018 baseball, softball, and t-ball season. During March, the Thor Guard Weather Warning System was installed at PCRD to monitor weather conditions during recreational activities.

Also, Pickens County Government websites were revamped for the benefit of the citizens. Check out the new look and convenient resources at www.pickenscountyga.gov, www.pickrec.com, and www.pickensanimalshelter.com.

Pickens County Government departments continue to stay busy working for the citizens of Pickens County. The Pickens County Board of Commissioners continues to do a great job of leading these efforts. As work progresses, and projects continue, I will do my best to keep you informed of these developments.

Until the next time, stay safe, and shop local!




Tucker Green
Public Information Officer
Pickens County Government
1266 East Church St., Ste. 157
Jasper, Ga 30143
tgreen@pickenscountyga.gov
MORE NEWS ------ BACK TO PICKENS COUNTY BOARD OF COMMISSIONERS