Chattahoochee Tech Graduates from Pickens County Embrace Bright Futures
ADVERTISEMENT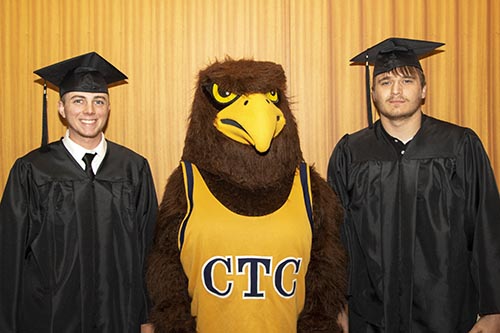 Chattahoochee Tech graduates Stephen Moore and Levi Champion, both of Pickens County, celebrate graduation with the Chattahoochee Tech Mascot, Swoop.
5/15/2018

Chattahoochee Tech honored 445 students from the state's largest technical college during two commencement ceremonies held on Thursday, May 10, at the Clarence Brown Conference Center in Cartersville. Students from 45 programs of study in the college's six-county service area crossed the stage to receive a technical certificate of credit, diploma or an Associate of Applied Science degree.

As students gathered in preparation for commencement, they shared their plans for the future and expressed gratitude for their positive educational experiences at Chattahoochee Tech.

Levi Champion, of Pickens County, graduated with a diploma in Welding & Joining Technology. "I always loved welding, and I wanted to learn more about it," said Champion, who has already secured a welding job in Holly Springs. "Chattahoochee Tech has the best welding instruction available."
Stephen Moore, of Pickens County, also graduated with a diploma in Welding & Joining Technology. "I'm already working at Tug Technologies in Kennesaw," said Moore. "I really liked the people at Chattahoochee Tech and the welding program there. Jordan Hunter is a great welding instructor."

Chattahoochee Tech Engineering Technologies Lead Instructor Stephanie O'Donoghue delivered the commencement address for both graduation ceremonies. O'Donoghue recently received the State 2018 Rick Perkins Award for Excellence in Technical Instruction, Georgia's top award for a technical college instructor, presented annually by the Technical College System of Georgia.

"There are so many benefits for attending a technical college," said O'Donoghue. "I know my students and they know each other, because they collaborate. Relationships impact student success. In addition, students learn a technical skill. I just cannot over emphasize the importance of technical skills. The future success of Georgia's economy is dependent upon a skilled workforce."

The most popular areas of study for the spring 2018 Chattahoochee Tech graduates were programs in Health Sciences followed by programs in business, including Accounting and Business Management, and programs in the field of public and professional services, including Cosmetology, Air Conditioning Technology and Early Childhood Care and Education.

Dr. Ron Newcomb, President of Chattahoochee Technical College, commended all of the graduating students for their diligence and determination.
"Today is a celebration of what our graduates have accomplished as well as a celebration of the skills and knowledge they have gained in order to take that next step in life – whether it is entering the workforce or pursuing even higher education," said Dr. Ron Newcomb. "We are very proud of how Chattahoochee Tech faculty and staff guide our students on paths to successful and bright futures."

For more information, visit www.ChattahoocheeTech.edu.



MORE NEWS ------ BACK TO CHATTAHOOCHEE TECHNICAL COLLEGE - APPALACHIAN CAMPUS