First Baptist of Ivy Gap Opens This Weekend
ADVERTISEMENT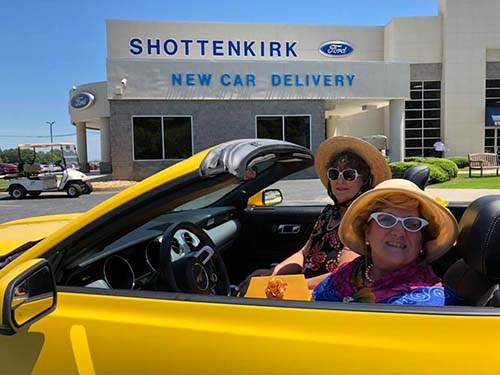 Find out why Edith, the pastorís wife, and Vera, the bankerís wife, are test driving this yellow convertible from Shottenkirk Ford.
6/7/2018

Ticket sales are picking up for Tater Patch Players' upcoming First Baptist of Ivy Gap, so hurry and grab them before they're gone. Director Stanley O'Kelley is full of compliments for his cast and for this play, which resonated deeply with him the moment he first read it.

The six actresses have worked hard these past weeks to create the characters of Edith (Audrey Kirsten), Mae Ellen (Buffy Clark). Olene (Vanessa Stancil), Luby (Ellen Painter) and Sammy (Dovie Green). They're "right proud" of their safe little church in Ivy Gap and they'd like to invite you into their lives there. It's conveniently located inside the Tater Patch Players Theater at 95 Philadelphia Lane.

We hope you will come share their tears, but more especially their love and laughter. The performance dates are June 8, 9, 10, 15, 16, 17, 22, 23, 24. The Sunday shows are at 2 PM and the others at 7:30 PM.

It's easy to buy tickets online (taterpatchplayers.org) or beginning an hour before performance times at the door. First timers to our theater pay only $10, adult tickets are $18, seniors $16 and students $14. Thinking of bringing a group of 12 or more? Contact us at taterpatchplayers@gmail.com about that or with any other questions.



MORE NEWS ------ BACK TO TATER PATCH PLAYERS THEATER