Rehearsals in Full Swing for A Christmas Story
ADVERTISEMENT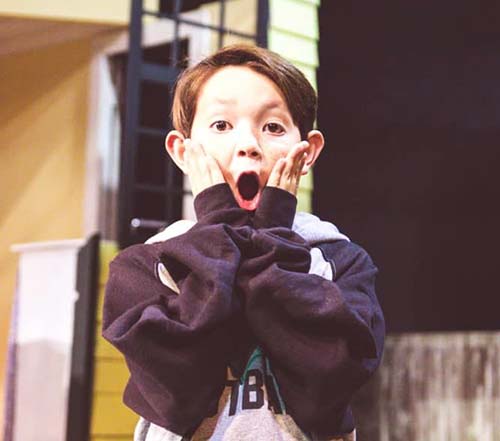 Dylan Lo as Flick, sees Scut Farkas about to attack again.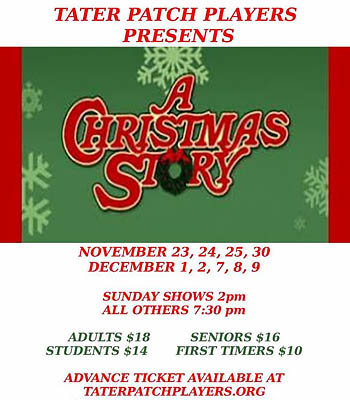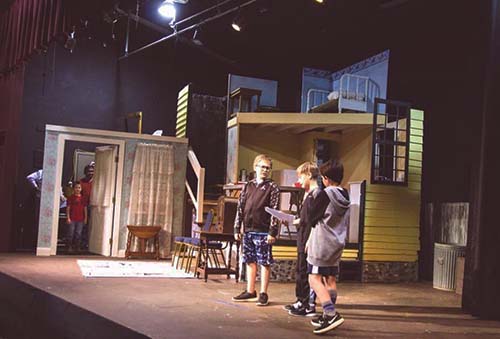 Preston Leathers and Tony Greiner wait offstage as L-R Grayson Ludington, Silas Thomas and Dylan Lo work on a scene.


11/8/2018 ~ by Nan Nawrocki

With a cast of four adults and thirteen kids (plus eight stage hands who play small roles AND move the scenery and props), the Tater Patch Players stage has become a very busy place. The play version of "A Christmas Story" is based on the movie, which is based on a book. In all that translation, it's evolved into a series of many quick scenes that tell the story.

Stitching these scenes together are lights and sounds, including several of Ralphie's fantasies that aren't even in the movie. Everyone from the building crew to the lighting team to the actors and directors are working to smooth it all into a warm blanket of Christmas delight for your family.

The Tater Patchers hope you'll buy tickets for one of their nine performances (November 23, 24, 25, 30 and December 1, 2, 7, 8, 9). As always, the Sunday shows are at 2 pm and the rest at 7:30 pm.

Our theater is a drop-off point for the Marine Corps League's Toys For Tots drive. Bring a new toy, not gift wrapped, to help a kid have a merrier Christmas. (Please no BB guns, because, as we all know, "You'll shoot your eye out").

As always the troupe is opening up its final dress rehearsal, Tuesday November 20 at 7:30, as Share Night, for members of our community who can't afford tickets right now. They ask that those people who come to Share Night bring a bag or two of toiletry or non-perishable food items that the troupe will take to CARES to help those in need of the basics.

Tickets are $18 for adults, $16 for seniors, $14 for students and $10 for First Timers. They can be bought in advance on the troupe's website at www.taterpatchplayers.org or on their Facebook page. The box office opens one hour before curtain time. Please address questions or comments to taterpatchplayers@gmail.com or leave a message at 706-253-2800.



MORE NEWS ------ BACK TO TATER PATCH PLAYERS THEATER