Holiday Tour of Homes in Jasper
ADVERTISEMENT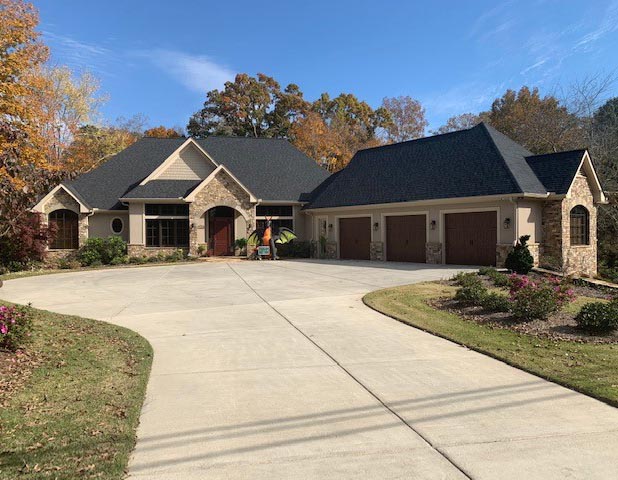 Home of Becky Denney & David Keller located at 525 South Main Street. One of the five homes during the Holiday Tour of Homes on December 2, 2018.
11/21/2018 ~ by Lorrie L. Shaw

The Aces Youth Home (ACES) will hold its first annual Holiday Tour of Homes in Jasper. Presented by Piedmont Mountainside, this yearís walking tour will take place on Sunday, December 2nd from 2:00 until 7:00 pm and will feature five decorated homes on South Main Street in Jasper.

Our featured home this week is the home of Becky Denney & David Keller located at 525 South Main Street. This is the newest home to be built on South Main Street. The completion date was March 2017.

Becky is a native of Pickens County, growing up in the City of Jasper. The Denney/Kellerís had previously lived in Big Canoe for the past 20 years prior to building on South Main. They purchased the lot from Danny Westbrook. It was owned previously by his sister, Maxine Moore, who owned Moore Furniture Co.

After first working with an architect for a brief time, they eventually found a plan on line by Donald R. Gardner. The builder was Christopher Hayes owner of Jectar Builders. Christopher had built their lake home in Big Canoe and also Beckyís State Farm Office Building on E. Church Street. His wife, Nicole Kelly Hayes was the designer/decorator.

Nancy Cowart from Big Canoe did the landscaping. Louise Johnson Fox has helped with the Christmas decorations. One of our favorite things is a large Nutcracker in the dining area which was hand crafted by Johnny & Pat Denney.

Some special things about the house according to Becky & David is the elevator that the builder suggested and with a few changes, we were able to install it. Also, on the lower level is a Golf Room with a golf simulator. The swimming pool in the back is a favorite place for the family to gather. The grandchildren love the pool.

Tickets may be purchased online at acesyouthhome.org or from an ACES Board member, Community Bank of Pickens County, Jasper Drug Store, Designs on Main, Renasant Bank, and Piedmont Hospital Gift Shop. Online tickets will include a $1 convenience fee, and tickets purchased the day of the tour will be $30. Free shuttle service will be available from First Baptist Church, Jasper United Methodist Church, behind Mountain Education Center (former Jasper Middle School) and behind Revive us Again. Parking in public lots downtown will also be available. Food and drinks will also be available for purchase in the green space. For more information about becoming involved with ACES, email aces@acesyouthhome.org or call 706-253-2375.

The mission of ACES Youth Home is to provide temporary and long-term residential placement and care for both boys and girls ages 11-18. We provide a safe, secure and nurturing home for youths who have been victims of abuse or neglect. We help children discover their strengths and learn to cope with the crises in their lives. We strive to recognize the value and dignity of each individual we serve. Donations can be mailed to ACES Youth Home, 133 Cares Drive, Jasper, GA 30143.



MORE NEWS ------ BACK TO ACES YOUTH HOME