Holiday Tour of Homes in Downtown Jasper benefits ACES
ADVERTISEMENT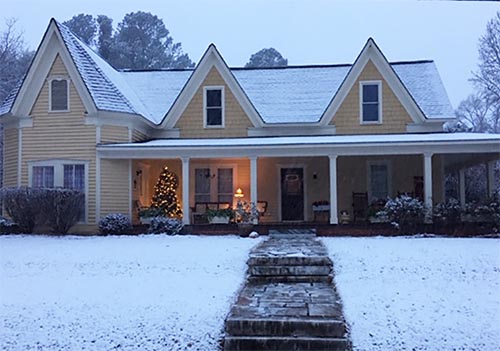 Tim and Mary Ghorley's home at 342 S. Main Street will be one of the stops on this year's home tour.
11/28/2018

The Appalachian Children's Emergency Shelter (ACES), provider of temporary and long-term residential placement and care for boys and girls ages 11-18, invites you to attend the first annual Holiday Tour of Homes in Jasper. Presented by Piedmont Mountainside, this year's tour will take place on Sunday, December 2, 2018 from 2:00 pm until 7:00 pm and will feature five decorated homes along South Main Street.

"A tour of homes hasn't happened in Jasper in over 20 years," said Mary Ghorley, Jasper-resident and board treasurer for ACES. "ACES is so excited to bring the tour of homes back to Main Street in Jasper."

Tim and Mary Ghorley's house will be one of the featured homes in this year's tour. While the home was built in 1880 it has only been owned by three different families.

Originally built by Mr. and Mrs. J.F. Simmons, the home was inherited by their daughter, Addie Simmons who remained in the home until her death in the 40's. The house was then purchased by Lyman and Alice Parson. Mr. Parsons was a tax collector for the Georgia Revenue Department and Mrs. Parsons was the home economist in North Georgia for the Georgia Power Company. Tim and Mary Ghorley purchased the home in 1995 from the estate of Mrs. Parsons and have been been restoring and remodeling ever since.

Tickets may be purchased online at acesyouthhome.org or from an ACES Board member or Community Bank of Pickens County or Jasper Drug Store. Online tickets will include a $1 convenience fee, and tickets purchased the day of the tour will be $30.

Free shuttle service will be available from the parking lots at First Baptist Church, Jasper United Methodist Church, behind Mountain Education (former Jasper Middle School) and behind Revive Us Again.

Food and drinks will be available for purchase at the green space – all proceeds benefit ACES. Individual and business sponsorships are also available.

For more information about becoming involved with ACES, email erin@acesyouthhome.org or call 706 253 2375.



MORE NEWS ------ BACK TO ACES YOUTH HOME