Cornbread Reunion - Hometown Celebration of the Arts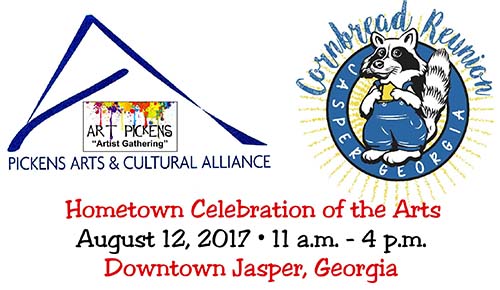 Location:
Green Space in Downtown Jasper, Georgia (67 Main Street, Jasper, GA)
Start Date:
8/12/2017
Start Time:
11:00 AM
End Time:
4:00 PM
Description:
A great day of Art, Activities, Food & Fun!

Artist will be demonstrating, selling and sharing their art.
Family activities and special treats!

• Cornbread Hoecakes with all the fixin's $5
• Dunking Booth • Snowcones • Cobbler • Music
• Free Rock Painting for Kids & Adults for Pickens County Georgia Rocks on Facebook

Art Raffle Featuring Over $2,000.00 of Artwork from Regional Artist:

• Billy Roper • Peter Loose • Stanley Ferguson
• C. Larry Wilson • Heather Poole • Randy Tabias
• Miz Thang • Kip Ramey • Arthur McIntyre
• Sam Granger • Ed Brackin

Purchase Raffle Tickets at the event or contact Larry Wilson at 770-893-8141
Tickets/Signup:
Everyone is invited! Admission is FREE!