Pickens County Joint Comprehensive Plan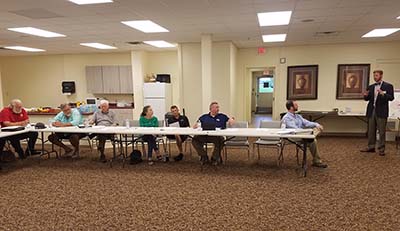 Location:
Pickens County Administration Building, 1226 E. Church Street, Jasper - Pickens Room (lower level)
Start Date:
8/22/2017
Start Time:
6:30 PM
Description:
The main focus of the August 22 meeting will be to discuss community Strengths, Weaknesses, Opportunities, and Threats.

The first stakeholders committee meeting for the comprehensive plan was held on June 20. There were participants interested in the future of various parts of the county (Hinton, Marble Hill, Tate, etc.) as well as the cities of Jasper, Nelson, and Talking Rock. Participants also mentioned that they were interested in certain developments, including Big Canoe and Bent Tree. View video/documents

During the June 20 meeting, topics of discussion included:
- Water & sewer infrastructure
- Parks & recreation
- Downtown planning
- Arts & cultural activities

If you would like to read portions of the current comprehensive plan, adopted in 2008 and revised in 2013, please go to http://pickenscountyga.gov/about/

The draft plan must be ready by March 2018. The draft will then need to be recommended for approval by NWGRC and the State Department of Community Affairs. The final plan needs to be approved by all local jurisdictions on or before June 30, 2018.


Tickets/Signup:
All are welcome.