Tate Day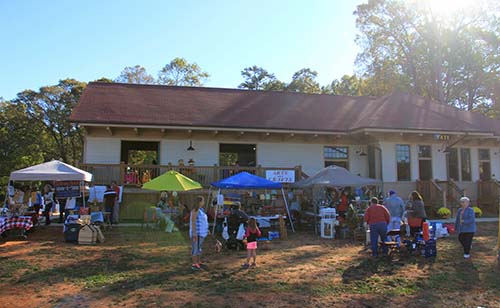 Location:
Tate, Georgia
Start Date:
11/4/2017
Start Time:
8:00 AM
End Time:
5:00 PM
Description:
The Tate Day Festival is sponsored by Marble Valley Friends, Inc., an historical preservation organization, headquartered in Tate. We restored the Old Tate Gym and maintain it as a place for community benefits, receptions, and social events.

SCHEDULE

8am-10am / Tate Elementary PTO Bulldog 5k / Tate Streets
9am-5pm / Arts & Crafts / Tate Depot
9am-5pm / Demonstrations / Downtown Tate
9am-1pm / Yard Sale, Childrens Activities, Hot Dog Lunch/Tate UMC
10am / Parade / Tate Streets
10:30am / Church Spotlight-Four Mile Baptist / Downtown Stage
11am-1:30pm/ BBQ Lunch / Old Tate Gym
11am-2pm / Mini Class Reunions / Old Tate Gym
11:45 / Friends Memorials / Old Tate Gym
11am-2pm / Cake Bake-Off / Old Tate Gym
11am-3pm / Marble Quarry Tours / Old Drug Store Bldg.
11am-3pm(ish) / Entertainment / Downtown Stage
12pm-3pm / Tate Elementary School Tours / School
3pm / Raffle Drawings / Old Tate Gym


Penny Prince Davis is coordinating vendor segment. Contact here at 770-735-2564.

Marble Valley Friends meets the First Thursday of each month at 7pm in the Old Tate Gym. Winter meetings are at the Tate Community Room
Tickets/Signup:
For more information call 678-454-5477.