GADNR Public Meeting on Strategic Management of Wild Turkeys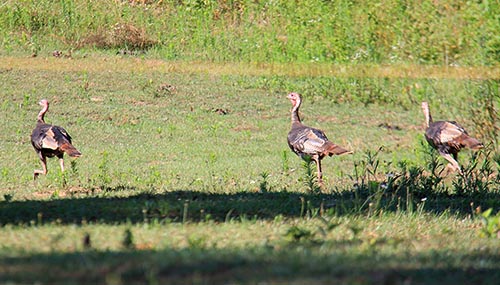 Location:
Pickens County Administrative Offices (Suite 168, 1266 E. Church Street, Jasper, GA 30143)
Start Date:
10/4/2017
Start Time:
7:00 PM
Description:
Hunters and other interested persons are encouraged to attend the upcoming PUBLIC MEETING regarding the draft Strategic Management Plan for WILD TURKEYS in Georgia.

Strategic Management Plan Draft

"About 60,000 hunters pursue wild turkeys each spring in Georgia, with many more that enjoy seeing turkeys and having turkeys on their property," says Kevin Lowrey, state turkey biologist with the Wildlife Resources Division. "This long term strategic plan will serve as the guiding document for statewide turkey management efforts in our state – but first, we need feedback from our turkey hunters and other interested Georgians."

Those unable to attend a meeting may submit input in one of the following methods (input must be received by Friday, Oct. 20, 2017):

• Statements may be electronically submitted here
• Written statements should be mailed to: GA DNR/Wildlife Resources Division/Game Management Section; Attn: Tina Johannsen; 2067 U.S. Highway 278, S.E.; Social Circle, Georgia 30025.
• Call 770-918-6404.