Pickens County Airport Open House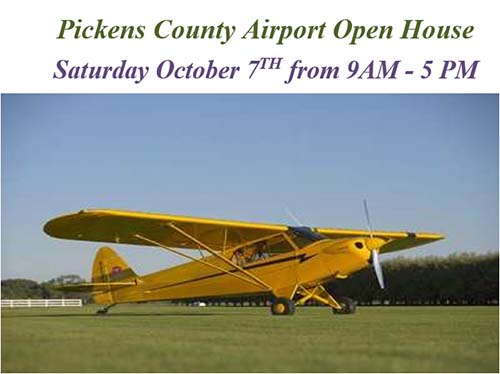 Location:
Pickens County Airport, 193 Airport Rd. ~ Jasper, GA 30143
Start Date:
10/7/2017
Start Time:
9:00 AM
End Time:
5:00 PM
Description:
Come and enjoy the first annual Pickens County Open House. This yearly event to be in conjunction with the Marble Festival.

- Free Shuttle Service in to and from the MARBLE FESTIVAL (furnished by the Chamber of Commerce)
- Free parking / 3 venues of food available
- HOT AIR BALLOON – tethered rides (weather permitting)
- Various AIRCRAFT flying in for viewing and display; Civilian and Experimental classes; i.e. Cessna 172, Vans RV-7, Beechcraft Bonanza A-36, Sport Cub, Carbon Cub, a Globe - Swift, are just a few of the many invited guest aircraft

- Instructors available for the "First Lesson" RIDE in one of 4 different type aircraft. (fee involved)
- New hangar Ground Breaking Ceremony at 1 PM
- Aerial Demonstration in an EXTRA aircraft (weather permitting, time TBA)

Tickets/Signup:
Contact the Pickens County Airport Manager Randy Thomason;
Telephone # 706-253-8830 for more information.