B-Unique Fall Festival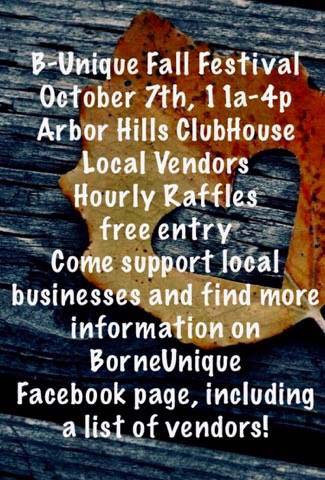 Location:
Arbor Hills Clubhouse
Start Date:
10/7/2017
Start Time:
11:00 AM
End Time:
4:00 PM
Description:
Local Vendors
Hourly Raffles
Free Entry

Giveaways donated by local businesses:

Carrington Coffee, we have free coffee cards!
Debs bakery: $20 giftcard
GypsyRoots: 5/$10 gift cards
WingsOlogy: 2/$20 gift certificates and other gifts.
Salon 84: 2 shampoo and blowouts to give away
Fainting Goat: wine tasting for 4 and other gifts!
$10 giftcard from the Meat Market , at the Tate 4-way!! Great selection!!