Auditions for Those Crazy Ladies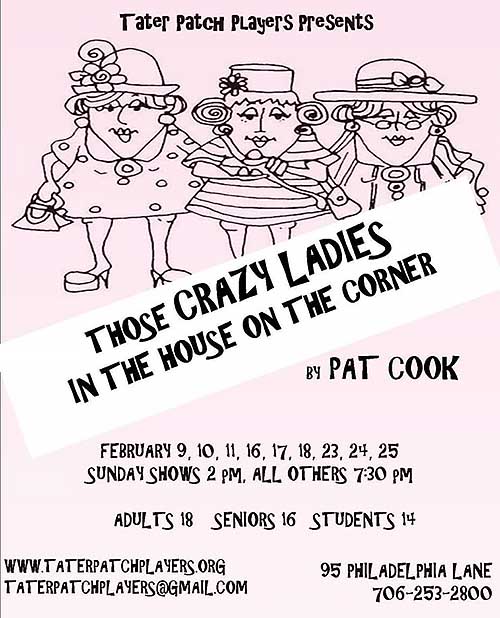 Location:
Tater Patch Players Theater, 95 Philadelphia Lane, Jasper, GA
Start Date:
11/19/2017
Description:
Audrey Kirsten is holding auditions for this delightful and madcap comedy about three "crazy ladies" who are sisters, stubborn and constant talkers. Their doctor tries to help by bringing them a live-in nurse, who has some issues of her own. Good comedy with great roles for adult actors of all ages and experience. Auditions will be by cold reading from the script.

CAST AND PRODUCTION INFO: 3 men, 5 women, 1 either gender.

3 of the women need to play age 60+, 1 woman plays 40+, one plays 20s to 30s. One man plays 40+, two men play 30's. The character that can be man or woman plays any age.

The performance dates are three weekends, February 9 - 25. Auditions are being held early to allow time for holidays and the potential for wintery weather.
Tickets/Signup:
Contact taterpatchplayers@gmail.com with any questions!