12 Days of Christmas in the South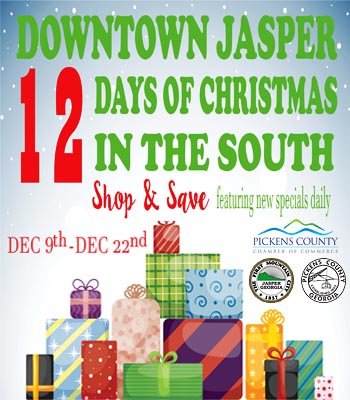 Location:
Downtown Jasper, Georgia
Start Date:
12/9/2017
Start Time:
10:00 AM
End Date:
12/20/2017
End Time:
5:00 PM
Description:
Shop & Save in Downtown Jasper for 12 Days of Christmas in the South from December 9-22. Participating businesses will offer new specials daily and a chance to win prizes along with Grand Prize in the end.

- Shopping passes available at any participating locations listed below.
- Changed wording: $5 minimum purchase required during the 12 day period to at least 12 participating locations to be eligible for the GRAND PRIZE or other baskets given away.
- Completed shopping passes must be turned in at any participating location no later than Friday, December 22 at 6 pm.
- Drawings for all prizes will be held Saturday, December 23 at 9 am. at 61 Main, 49 South Main Street (you do not have to be present to win).

PARTICIPATING BUSINESSES:
61 Main
The Carriage House - Jasper, GA
Coach's Cuts Hoagies
Coco's Cottage
Clock Tower Gifts and Boutique
Daisy Boutique
Designs On Main
Gracie's Boutique
Magnolia's on Main
Natural Market Place
Donna McDonald Pampered Chef Director and Trainer
Southerndipidy
Sunsations Inc.
SuzieQ's Boutique
The Hair Loft
Vibe Fitness Boutique
Victor's Nails & Tan
WingsOlogy
The Woodbridge Inn

BONUS: Post a picture while shopping with hashtag #Jasper12daysofChristmas to be registered for a $25.00 MasterCard Gift Card donated from Community Bank of Pickens County. 1 person is allowed multiple entries (2 to be given away).