Legacy of Caring Marketplace and Tour of Homes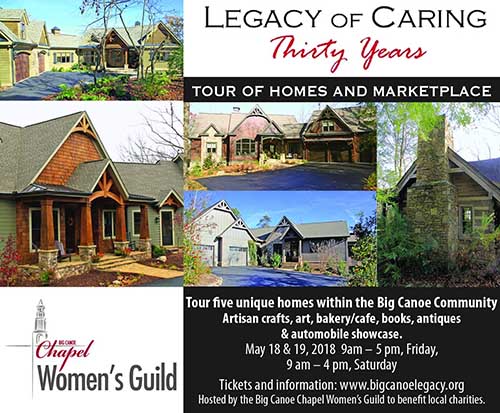 Location:
Big Canoe Community
Start Date:
5/18/2018
Start Time:
9:00 AM
End Date:
5/19/2018
End Time:
5:00 PM
Description:
Tour five unique homes within the Big Canoe Community

Artisan crafts, art, bakery/cafe, books, antiques and automobile showcase

Friday, May 18 - 9 am to 5 pm
Friday, May 19 - 9 am to 4 pm

Cost for a Tour ticket is $30.00 and can be purchased at www.bigcanoelegacy.org for a morning tour, 9:00 am to 11:30 am, or afternoon, 12:30 pm to 3:00 pm. Tickets can also be purchased in Big Canoe on the days of the Tour. Buses will transport ticket holders from the Chapel to the homes. Plan to start your tour no later than 1:00 pm to see all five homes. Tour homes will begin to close at 4:00 pm on both days.

Hosted by the Big Canoe Chapel Women's Guild to benefit local charities.