Art Pickens Artist Gathering and Market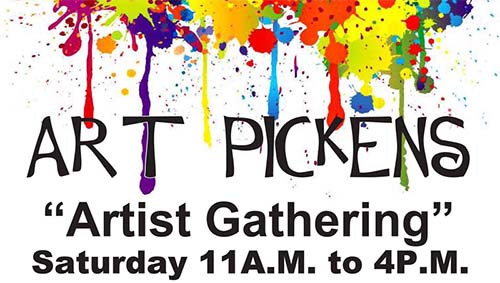 Location:
Southern Appalachian Folk School, 255 Chambers Street, Jasper, GA
Start Date:
6/9/2018
Start Time:
11:00 AM
End Time:
4:00 PM
Description:
Art Pickens Artist Gathering and Market is an opportunity for local artist to gather and network with fellow artist as well as meet and talk with residents and other art lovers from around North Georgia. It is an opportunity to demonstrate your art and talent to like-minded artist; young aspiring artist; and art lovers. Young aspiring artist and new artist are encouraged to attend and participated in each Gathering.

The Gathering (Art Pickens) is an outdoor event and will be held, weather permitting, on the second Saturday of each month from May to November at 255 Chambers Street in Historic Downtown Jasper. The Gathering site is located five (5) block north of the traffic light at Main Street and Church Street, and one (1) block north of the Woodbridge Inn.

There is no fee required to participate or attend.