Pickens County TEA Party

Jasper, GA 30143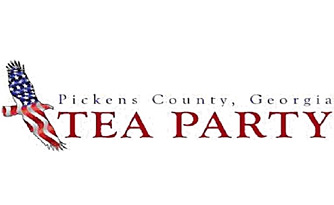 PHONE
706-253-3937
Pickens County TEA Party
Hours:
4th Tuesday each month
7-9 p.m.
Group of concerned citizens who meet to educate, inform, and motivate to
learn how to impact and change local, state, and federal politics
---
NEWS & PRESS RELEASES



Tea Party Talk: Gun Legislation in Georgia (8/14/2018)
Meeting Tuesday, August 28th
We are pleased to announce that our special speaker for the August 28, 2018 Pickens County GA Tea Party meeting will be Mr. Jeff Anderson, a Life Memb...



Tea Party Talk: Local Politics (6/26/2018)

Many people say "All Politics are Local". Your local Tea Party is one opportunity for citizens to expound on this theory. The Georgia Primary Ele...



Tea Party Talk: What We Can Do to Restore The Georgia GOP Back To Its Conservative Values (5/15/2018)

One of several conservative grassroots organizations, the National Republican Assemblies has state chapters in the USA; and Georgia is represented am...



Tea Party Talk: Guest Speaker Larry Cavender (4/20/2018)

If you are following the daily national news, every day you read in newspapers and magazines, watch on television, or hear on radio—the latest episode...



Tea Party Talk: Guest Speaker Nancy C. Maddox (3/27/2018)
Tuesday, March 27, 2018
It's time to talk about Trusts and LLC Trusts! When thinking about protecting our families, a good plan may need to include a trust. Unplanned event...



Tea Party Talk: Guest Speaker Larry Cavender (2/20/2018)

On rare occasions, opportunities appear for Pickens County Ga Tea Party to present a program speaker with a special message. Our February 27th tea pa...



Tea Party Talk: United Nations (8/22/2017)

The United Nations has been a controversial subject in the United States for several years. Many people believe the UN has overstepped its authority ...



Tea Party Talk: Georgia's 6th Congressional District Election Night (5/22/2017)
Meeting on May 23, 2017 at Johnny's Pizza
A special election will be held on June 20, 2017, to determine the member of the United States House of Representatives for Georgia's 6th congressiona...



Tea Party Talk (4/18/2017)
Meeting on Tuesday, April 25th
Double your knowledge of important issues of the day at our next Tea Party meeting. We have TWO guest speakers who will continue to bring news that i...



TEA PARTY TALK: Educate Before You Vaccinate (3/23/2017)
Meeting on March 28th
You are invited and urged to attend the March 28th meeting of the Pickens County GA Tea Party. We are pleased to have a special guest speaker, who is...
Support KnowPickens.com by utilizing our Advertisers that Support Us! Shop Pickens First!
Tell them you found them on KnowPickens.com


To make changes, add a photo/logo or enhance your listing with a link to website, more pictures,
more information, banner ads and more please email info@knowpickens.com.