Pickens Animal Rescue

PO Box 45 ~ Jasper, GA 30143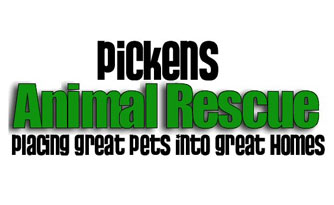 PHONE
706-253-5353
Pickens Animal Rescue
Hours:
Tuesday - Friday 12-4 pm
Saturdays 10-4pm
Sunday and Monday are
by appointment only.
pickensanimalrescue.org

Pickens Animal Rescue is a non-profit corporation established in 1997.

---
MORE INFORMATION
Our mission is to find caring homes for the abandoned and stray dogs and cats of Pickens County

We are a group of volunteers that devote a good amount of time each day caring for and looking for homes for these helpless animals.


HOW TO FIND YOUR LOST PET

The number of calls to report lost pets into your local pet rescue group, Pickens Animal Rescue, is growing so they thought some pointers on how to go about finding your lost pet might be of interest. If you've lost your pet, don't waste any time - begin your search as soon as you notice the animal is missing. Here are some things that can be done:

1. Ask around: talk to neighbors, mail carriers, show a photo of your pet and see if they have seen them recently. If they haven't seen them, ask them to keep an eye open for them and give them your house address.

2. Create a flyer with your pet's photo, brief description and your phone number. Distribute the flyers and post them around your neighborhood or the area the pet was last seen. If you can afford it, you may want to offer a reward.

3. Put a "lost pet" ad in the paper. Title it "Lost Cat" or " Lost Dog" and include your phone number, the date that the animal was lost, where she was last seen, and a clear, brief description containing the animal's name, breed, color, sex, age, and whether she was wearing a collar.

4. Check with Pickens Animal Rescue's website on their lost/found section for all pets reported to them as found. You can also call and leave a message about your lost pet on their help line at 706-692-2772. Email them a photo and lost information about the dog to their website at parinfo@pickensanimalrescue.org

5. Call area veterinary clinics and send a photo of your pet. Ask each of them if any animal fitting your pet's description has been brought in.

6. If you suspect the pet may have been stolen, report your missing pet to teh police.

7. Read the "pet found" section of the newspaper and check Pickens Animal Rescue's website daily for updates.

8. Look around your neighborhood carefully (or where your pet was lost); some animals wander into a basement or garage of a neighbor and accidently get shut inside.

9. Late at night or early in the morning when it is quiet, go to the area the pet was lost, take his favorite food and a flashlight. Call his name and wait to see if he shows up. Try this several times.

10. If your lost cat is an indoor cat who does not go outdoors, place the litter box outside, where she may smell her own scent and recongnize her home. (don't clean it out first!)

11. If your pet has a microchip ID, call in your lost pet immedicatly. Pickens Animal Rescue offers the AVID microchip for all pet owners at just $25.00 per pet and scans all found pets for microchips prior to placing up for adoption.

12. Don't give up! Persistence is often the key to finding a lost pet. Some animals have been found after months of being missing.

Remember to take measures to insure your pet's safety prior to them getting lost. Have current address and phone number on their collars; current rabies tag on their collars; have your pet microchipped so in the case their collar come off, they can still be returned to you; have a recent photo of your pet in case you need to identify them. If a pet is reunited with the family that has been turned over to Pickens Animal Rescue, there is a claim fee of $35.00 per pet. The pet is held for 5 days and if not claimed, it is then available for adoption and is given health care and is spayed/neutered. The adoption fee is $150 for dogs/puppies (all receive the AVID microchip) and cat/kitten fees are $100.

We hope you don't have to experience this horrible feeling of looking for your family pet but just in case, make sure to follow these steps and together, we will work on reuniting you and your pet!

NEWS & PRESS RELEASES



Rob is the Most Beautiful Pet (11/2/2016)

The Pet Paparazzi crowed into Happy Trails & Waggin' Tails Pet Salon on Saturday to meet and congratulate the 2016 Most Beautiful Pet in Pickens Conte...



Adopt From Pickens Animal Rescue (9/26/2016)

Blayne can't understand why he and his brother Bennie are still at the Rescue Ranch. They came to us as 4 month old puppies in April 2015 and since th...



Looking for the Most Beautiful Pet in Pickens County (9/15/2016)
Contest ends October 15, 2016
Registration is under way once again for Pickens Animal Rescue's Most Beautiful Pet contest. Here's your chance to show off that glorious fur-friend y...



Pokey Needs a Home with Room to Run (8/18/2016)

Pokey is a 5 year old Weimaraner mix. She is house trained, great with other dogs, and great with kids... NO cats. She is rather large, around 80 lbs,...



Kittens are Half Price in August at Pickens Animal Rescue (8/10/2016)

We are Devo, Davo, and Demi! We were feral kittens found in rural North Georgia and we have become sweet, loving furballs. We love to cuddle and play....



Are You Down on Your Luck? Maybe, Adopting Junior Will Help! (8/3/2016)
Sailors believed many-toed cats were good luck
Junior is a 3 year old male Polydactyl cat, which means he has extra toes! He loves attention and gets along with other cats. Junior would make a grea...



Three Q's For You! (7/5/2016)

Quinn, Quiggly, and Quincy are looking for homes! They are three months old and such sweet boys! They would make a wonderful addition to any family! C...



Hey Guys, Stella Here! (6/28/2016)

I'm a beautiful two-year-old American Bulldog Mix and I am ready to find my furever home. My friends here at the rescue ranch love me but nothing comp...



Tiger Loves Attention! (6/23/2016)

Tiger has been with PAR for close to a year now. He is 10 years old and in desperate need of a home! Being at the rescue and not in a home is ...



This Gorgeous Male Kitten Needs a Furever Home (6/3/2016)

Sweeney is a gorgeous three month old male kitten. He and his brother, Sparrow, are looking for furever homes! They are very playful and sweet and lov...
Support KnowPickens.com by utilizing our Advertisers that Support Us! Shop Pickens First!
Tell them you found them on KnowPickens.com


To make changes, add a photo/logo or enhance your listing with a link to website, more pictures,
more information, banner ads and more please email info@knowpickens.com.