Pickens County Public Schools Board of Education/Administration

100 D. B. Carroll Street ~ Jasper, GA 30143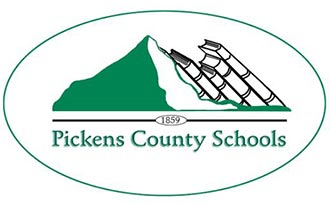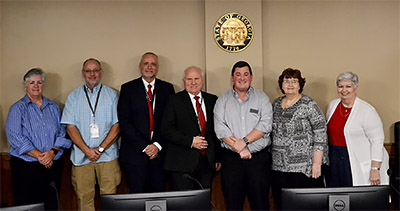 PHONE
706-253-1700
Pickens County Public Schools Board of Education/Administration
Hours:
Meets the second Thursday
of each month at
Board Conference Room
on D.B. Carroll Street
www.pickenscountyschools.org


Donna Enis, Board Member
Tucker Green, Board Chair
Sue Finley, Board Member
Steve Smith, Vice Chair
Joeta Youngblood, Board Member






---
MORE INFORMATION
Board of Education Meetings on Video
are listed in the News Section below

EBOARD



Pickens County Board of Education Chair Explains E-SPLOST (10/27/2015)
Pickens County residents vote on the E-SPLOST in the November 3rd General Election
I encourage anyone to contact me or any Board of Education (BOE) member directly with questions regarding E-SPLOST or any other issue related to the P...



2016 Pickens Teachers of the Year (10/15/2015)

To kick off the 2015-16 school year, we selected a motto to highlight the district's focus on our students. The "Just for Kids" message was quickly em...



Pickens County Board of Education October 2015 (Video) (10/8/2015)
2106 Teachers of the Year Recognition
Pickens County Schools 2016 Teachers of the Year Recognition: Pickens High School ~ Leslie Zuidema, Pickens County Middle School ~ Judy Pettigrew, Ja...



Pickens County Schools Placed On Precautionary Lockdown (9/11/2015)

Pickens County School Resource Officer Lt. Shane Padgett sent out the release below this morning. After a little over an hour, the lockdown was lifte...



Pickens County Board of Education September 2015 Meeting Video (9/10/2015)

Anna Walker recognized for winning at the national level in two separate CTSO (Career and Technical Student Organizations) events. FY2016 Budget appr...



Pickens County Board of Education Called Meeting To Approve Personnel (8/26/2015)
PAR Report opens in new window (PDF)
A Called Board Meeting was held to approve personnel for the 2015-2016 school year including teachers for JES additional classrooms due to increased s...



Pickens County Board of Education August Meeting (Video) (8/13/2015)

ESPLOST Ballot Resolution ...



Back to School Tip: Sharing the Road with School Buses (8/2/2015)

In most cases, all drivers are required to stop when meeting or overtaking a stopped school bus that has its red lights flashing and its stop arm exte...



Pickens County School District Announces Change to County Athletic Program (7/31/2015)
New Position of 'District Athletic Director' Created
Effective today, an administrative change will take place to streamline and strengthen the athletic programs within the Pickens County School District...



Pickens Board of Education Personnel Action Report (7/20/2015)
Approved at Called Meeting on July 20, 2015
The administration recommends employment of the individuals listed on PDF with such employment being initially temporary until such time as their crim...



<< Previous 1 2 3 4 5 6 7 8 9 10 11 12 13 14 15 16 17 18 19 20 21 22 More >>
Support KnowPickens.com by utilizing our Advertisers that Support Us! Shop Pickens First!
Tell them you found them on KnowPickens.com


To make changes, add a photo/logo or enhance your listing with a link to website, more pictures,
more information, banner ads and more please email info@knowpickens.com.