Pickens County Public Schools Board of Education/Administration

100 D. B. Carroll Street ~ Jasper, GA 30143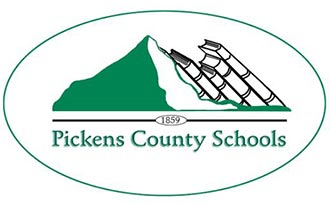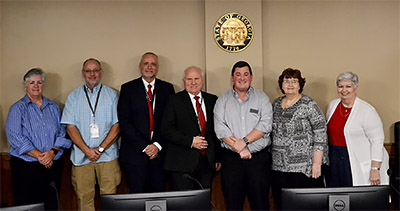 PHONE
706-253-1700
Pickens County Public Schools Board of Education/Administration
Hours:
Meets the second Thursday
of each month at
Board Conference Room
on D.B. Carroll Street
www.pickenscountyschools.org


Donna Enis, Board Member
Tucker Green, Board Chair
Sue Finley, Board Member
Steve Smith, Vice Chair
Joeta Youngblood, Board Member






---
MORE INFORMATION
Board of Education Meetings on Video
are listed in the News Section below

EBOARD
NEWS & PRESS RELEASES



Pickens County Board of Education Meeting (Video) (3/12/2015)

Spotlight on Student Achievement: Recognition of Reading Bowl Team; All State Chorus Recognition; GMEA District 9 Honor Band Recognitions; 2015 GMEA ...



Pickens County Schools Canceled on Friday, March 6th (3/6/2015)
Thursday, March 5th
Due to unsafe road conditions and slippery parking lots at school facilities, school is cancelled for students and staff for Friday, March 6, 2015. ...



Pickens County Board of Education Called Meeting (Video) (3/5/2015)
Voted for Make Up Day on Friday, March 13th
The Board Voted to make up a missed day on Friday, March 13, 2015. This was a scheduled in-service day. The other make up days will be determined afte...



School Board Retreat at North Georgia RESA & Pickens County Board of Education Central Office (2/18/2015)

The Pickens County Board of Education will hold a planning retreat on February 20, 2015, beginning at 8:30 a.m. and continuing through 1:00 p.m., Febr...



Pickens County Board of Education Meeting (Video) (2/12/2015)

During the PHS Football recognitions, the Board and Superintendent held Minnesota pennants for Shannon Brooks. Middle School Band District and State l...



Pickens County Board of Commissioners Meeting (Video) (1/8/2015)
2014 CRCT Perfect Scores In Math and Reading
Mike Cowart was elected Board Chair and Delane Lewis Vice-Chair. ...



TWO-HOUR PICKENS COUNTY SCHOOLS DELAY ON THURSDAY, JANUARY 8, 2015 (1/7/2015)

GEMA has advised the Pickens County School District of an Arctic cold front that is moving into Georgia and is bringing extreme cold temperatures for ...



Pickens County Board of Education Meeting (Video) (12/11/2014)
Mari Livsey, KnowPickens.com recognized with GSBA Beacon Award
...



Tate Cafeteria Ground Breaking (12/9/2014)

...



Food donations for the weekend snack program (12/8/2014)
Video on the program
Sometimes children get a free or reduced breakfast and lunch during the week, but do not have enough food or any food on the weekends. The weekend sna...



<< Previous 1 2 3 4 5 6 7 8 9 10 11 12 13 14 15 16 17 18 19 20 21 22 More >>
Support KnowPickens.com by utilizing our Advertisers that Support Us! Shop Pickens First!
Tell them you found them on KnowPickens.com


To make changes, add a photo/logo or enhance your listing with a link to website, more pictures,
more information, banner ads and more please email info@knowpickens.com.