Pickens County Board of Elections and Registration

83 Pioneer Rd ~ Jasper, GA 30143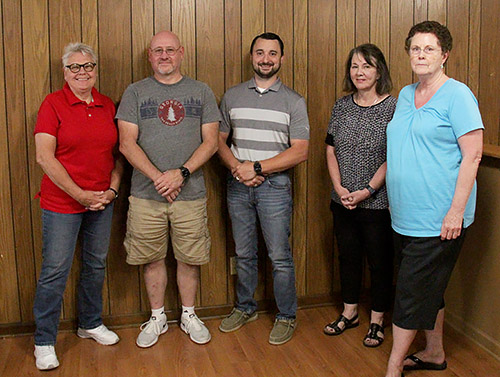 PHONE
706-253-8781
Pickens County Board of Elections and Registration
Hours:
Monday - Friday
8:00AM - 5:00PM
Board L-R: Tracey Wright, Mike Carver, Josh Tippens (Chairman), Barbara Ledom-Balducci, Rebecca Cantrell


---
MORE INFORMATION
PICKENS COUNTY PRECINCTS

1 – YELLOW CREEK
Yellow Creek Fire Station
1075 Yellow Creek Rd.
Ball Ground, GA 30107


2 – HILL
Hill City Elementary School
600 Hill Cir.
Jasper, GA 30143


3 – HINTON
Hinton Community Center
9261 Highway 53 W
Jasper, GA 30143


4 – JERUSALEM
Jerusalem Community Center
2681 Jerusalem Church Rd.
Jasper, GA 30143


5 – LUDVILLE
Ludville Community Center
30 Wildwood Ln.
Talking Rock, GA 30175


6 – NELSON
Nelson City Hall
1985 Kennesaw Ave.
Nelson, GA 30151


7 – TALKING ROCK
Talking Rock First Baptist Church
429 Old Blairsville Hwy
Talking Rock, GA 30175


8 – JASPER
Jasper City Hall
200 Burnt Mountain Rd.
Jasper, GA 30143


9 – TATE
Tate Elementary School
5630 Highway 53 E
Tate, GA 30177


10 – SHARPTOP
Fellowship Presbyterian Church
389 Bent Tree Dr.
Jasper, GA 30143


11 – APPALACHIAN
339 W. Church St.
Jasper, GA 30143


12 – REFUGE
Pickens County Middle School
1802 Refuge Rd.
Jasper, GA 30143
NEWS & PRESS RELEASES



Early Voting for Republican Party Primary Runoff Begins July 5th (6/28/2016)
Voting for Pickens County Board of Education Post 1
Early Voting for the Republican Party Primary Runoff is from July 5-22, 2016 at the Pickens County Board of Elections and Registration on Monday-Frida...



Qualifying for Independent Candidates This Week (6/27/2016)
June 27th through July 1st
Qualifying for independent candidates (not affiliated to any political party) is this week (June 27 - July 1) at the Pickens County Board of Elections...



Municipal Special Elections for Jasper and Nelson (6/9/2016)
Qualifying from Monday, August 29 - 31, 2016
Notices for Municipal Special Elections for the City of Jasper and City of Nelson were received today from Julianne Roberts, Supervisor of the Pickens...



Sample Nonpartisan, Republican and Democratic Ballots for May 24th Election (4/12/2016)

Below are PDF links to Sample Nonpartisan, Democratic, and Republican Ballots for the General Primary and Nonpartisan Election on May 24, 2016. Th...



Unofficial Results from Presidential Preference Primary (3/1/2016)

Unofficial Results for the Presidential Preference Primary in Pickens County: Republican Ben Carson - 344 Ted Cruz - 1570 John R. Kasich ...



Pickens County Board of Elections & Registration Meeting (2/4/2016)

Advanced Voting Presidential Preference Primary/March Special Election on Monday-Friday from 8 a.m. to 5 p.m. at the Pickens County Board of Elections...



ESPLOST Passes; Tony Fountain Reelected Jasper City Council (11/3/2015)

Election results from the State of Georgia General Municipal and Special Election on November 3, 2015. Jasper City Council contested seat: To...



Advanced Voting for November 3rd Election Begins (10/12/2015)
Vote from October 12 - 30, 2015
Advanced voting is now underway for the November 3rd election. Voting will be held at the Pickens County Board of Elections and Registration​ a...



Three Qualify for City of Nelson Council (9/4/2015)

CANDIDATES QUALIFIED FOR THE NOVEMBER 3, 2015 CITY OF NELSON – GENERAL ELECTION For City Council David Hamby Michael Haviland (Incumbent) Tin...



Qualifying Ended for City of Jasper and Talking Rock (9/2/2015)

Qualifying has ended for the City Jasper and Talking Rock. Since there are no opposed seats in Talking Rock, there will not be an election. Tony Foun...



<< Previous 1 2 3 4 More >>
Support KnowPickens.com by utilizing our Advertisers that Support Us! Shop Pickens First!
Tell them you found them on KnowPickens.com


To make changes, add a photo/logo or enhance your listing with a link to website, more pictures,
more information, banner ads and more please email info@knowpickens.com.