Pickens County Public Schools Board of Education/Administration

100 D. B. Carroll Street ~ Jasper, GA 30143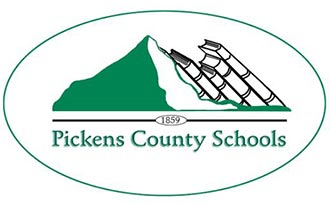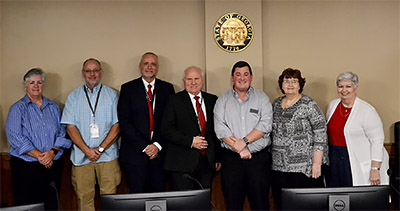 PHONE
706-253-1700
Pickens County Public Schools Board of Education/Administration
Hours:
Meets the second Thursday
of each month at
Board Conference Room
on D.B. Carroll Street
www.pickenscountyschools.org


Donna Enis, Board Member
Tucker Green, Board Chair
Sue Finley, Board Member
Steve Smith, Vice Chair
Joeta Youngblood, Board Member






---
MORE INFORMATION
Board of Education Meetings on Video
are listed in the News Section below

EBOARD
NEWS & PRESS RELEASES



Pickens Board of Education Swearing-in Ceremony (12/21/2018)

Pickens County Board of Education new members swearing-in by Chief Magistrate Judge Allen Wigington. Joeta Youngblood - Post 2 ( 1:30 ) Steven S...



Weapon Threat at Pickens County Schools Not Credible (11/8/2018)
Social media post of student stated a plan to bring a weapon to the high school
UPDATE [11.9.18 5:57 AM ] - After discussing last night's investigation with the Sheriff, we have determined that the social media threat is not cre...



Pickens Teachers Represented at GA State Superintendent's Teacher Advisory Council (11/5/2018)

Pictured are the Pickens County Schools representatives on the State Superintendent of School's teacher advisory council, a group of teachers from acr...



Changes After Thanksgiving Break at Pickens County Schools (11/4/2018)

Changes coming to some Pickens County Schools upon returning from Thanksgiving break after an Emergency Called Meeting by the Pickens County Board of ...



Know Vaping Presentation at Superintendent Chat (9/24/2018)

Pickens County School District Superintendent Chat with Dr. Carlton Wilson included a presentation on 'Know Vaping' by B. Alison Sosebee, District Att...



Dr. Carlton Wilson Superintendent Chat (9/24/2018)

Pickens County Schools Superintendent, Dr. Carlton Wilson hosted a Superintendent Chat on September 24, 2018 at Pickens High School. Due to recen...



Vaping is a Violation of Pickens County Schools Code of Conduct (9/7/2018)

Yesterday, the District Attorney's Office issued a press release on an alarming number of medical emergencies as a result of 'vaping' in Pickens, Gilm...



Pickens County Board of Education August 2018 (8/9/2018)
Olivia Moore recognized for AAAA State Champion in Pole Vault
AGENDA I. Call to Order II. Invocation III. Pledge of Allegiance IV. Approval of Agenda V. Executive Session VI. Approval of Executive Session M...



Pickens County Schools Providing Classroom Supplies For Students (7/10/2018)

Dr. Carlton Wilson, Superintendent of Pickens County School System sent out the following letter to parents stating classroom supplies will be provide...



Free Summer Meals For Children Ages 1-18 Starts Today (5/29/2018)

This is the fifth year that Pickens School Nutrition Services provided the free Summer Meals for children ages 1-18. The meals are possible through t...



<< Previous 1 2 3 4 5 6 7 8 9 10 11 12 13 14 15 16 17 18 19 20 21 22 More >>
Support KnowPickens.com by utilizing our Advertisers that Support Us! Shop Pickens First!
Tell them you found them on KnowPickens.com


To make changes, add a photo/logo or enhance your listing with a link to website, more pictures,
more information, banner ads and more please email info@knowpickens.com.