BIG CANOE TOUR OF HOMES CELEBRATES 25 YEARS OF CARING

Annual Event Has Raised More Than $1,000,000 to Assist Local Charities
ADVERTISEMENT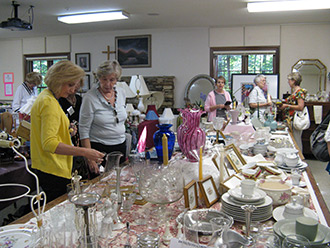 The Collectors' Corner offers a glorious selection of gently used home accessories, china, silver, glassware and antiques. (photo by Val Doll)

ADVERTISEMENT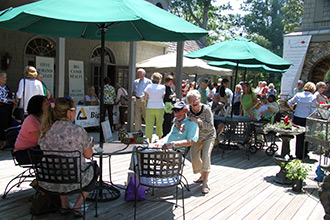 Enjoy lunch or rest awhile at the Crazy Bear Café before or after visiting the homes. (photo by Val Doll)


2/1/2013 ~ by Jean Lomax

The 2013 Big Canoe Tour of Homes is titled Legacy of Caring and will be held May 3-4 from 9:00 am to 5 pm on Friday and until 4 pm on Saturday in Big Canoe, Georgia. Tour-goers will travel to four unique and well-appointed homes in comfortable transportation, enjoying commentary about the history of the area as their carriage winds along.

Cost for a Tour ticket is $20.00 and can be purchased at www.bigcanoetour.org Tickets can also be purchased in Big Canoe on the days of the Tour.

Before or after visiting the homes, guests will enjoy browsing and buying at the Tour of Homes Marketplace where dozens of vendors will delight with an array of crafts, arts, trinkets, and treasures. Talented Big Canoe artists will be showcased at one of the homes.

The Tour's Book Nook is the place to find exceptionally well-priced books, DVDs, and CDs, and the Collectors' Corner offers the finest in gently used accessories for home and entertaining. Take home a sweet from the Bear Paw Bakery where cookies, pies, breads, and cakes will tempt. The Crazy Bear Café is the place to savor a hearty breakfast or lunch.

On Saturday, May 4 from 9:30 am until 3:30 pm, the MG Club will have 25 cars on exhibit with knowledgeable owners on hand to share stories about their beloved English sports cars.

Since 1989, the Big Canoe Chapel Women's Guild has sponsored the Tour of Homes to raise funds to assist more than 27 charities in Dawson and Pickens counties. So far, $1,118,000 has been raised to help those in need.

If you'd like more information about the Big Canoe Tour of Homes, please call Jean Lomax at (706) 268-1396 or e-mail Jean at jl2770@tds.net.



MORE NEWS ------ BACK TO BIG CANOE