Louise Hawkins is Coco's Cottage Mother's Day Makeover Winner
ADVERTISEMENT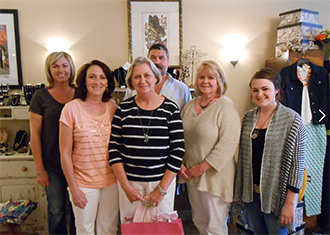 L-R: Hannah Mullins, Lisa Riley, Louise Hawkins, John Watkins, Nancy Tucker, and Brooke Riley

ADVERTISEMENT


5/30/2013

Coco's Cottage and local businesses hosted a Mother's Day Makeover contest. The grand prize winner was Louise Hawkins receiving an outfit from Coco's Cottage and a makeover by Northwest Salon.

Entries were required to tell a little bit about their Mom -- what makes her so incredible and why she deserves an extra special Mother's Day Makeover this year. Louise's oldest daughter, Lisa Riley, submitted the following winning entry:

Hi, my name is Lisa Riley. I would like to nominate my mom Louise Hawkins of Pickens County as the most deserving mom. She has 3 children, 6 grandchildren, 1 great-grandchild, 3 step-children, and 5 step-grandchildren. My mom has always taught us strength, faith, and happiness. She is our Rock, she is always there for all of us kids and grandkids. Sometimes I wonder how she does it all but her faith and love provides her the time to divide out to each of us. When my mom was 59 years old, she got the devastating news she had breast cancer and would have to have a double mastectomy. This news was devastating to us all but she stood tall, with a smile and has overcome this monster that invaded her life. She had reconstructed surgery only to find out her body would reject it, and is now 62 years old with no breast and ugly scars to remind her of that monster. She still wears that beautiful caring smile and still stands tall and strong. I know deep down that she is self-conscious and feels embarrassed and it hurts me to see such a beautiful lady feel like this. She is also dealing with her oldest grand-daughter graduating college this month and moving to Missouri and they are very, very close. Although she still wears that smile and stands tall and strong, deep inside she is heartbroken, scared and wants to scream. I think your give-a-way would help us show her that she is very special and it would make her May a lot brighter. Thank you for this opportunity as I know all moms are special.


Gift Baskets with items from Burnt Mountain Trading Co., Weeks Jewelry, Sunsations, Somatics, Jasper Drugs, Moore Furniture, Natural Food Market, The Carriage House, Body By Vi - Ginger Hall, and Millie's Diner were awarded to Kathy Postell, second place and Wendy Gleason, third place.

A panel of judges found it hard to make a decision because all the letters were very kind and loving.





MORE NEWS ------ BACK TO COCO'S COTTAGE