Pickens Drive-by Flu Shot Clinic Had Significantly Larger Turnout Than Last Year

110 doses of regular and High Dose Flu Vaccine Administered
ADVERTISEMENT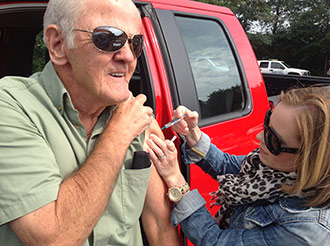 Fred Ponders of Tate, GA getting his flu shot from Caroline Garrett of Pickens County Health Department

ADVERTISEMENT


9/19/2013

110 doses, compared to 75 last year, of regular and High Dose flu Vaccine were administered at the Pickens County Health Department Drive-by Flu Shot Clinic yesterday at Mt. Zion Baptist Church in Jasper.

In addition to providing flu shots quickly, safely and conveniently at these Drive-by Clinics each year, Pickens County Public Health and their community partners, including EMA, fire and law enforcement agencies utilize this as an opportunity to exercise their plans to rapidly mass dispense medications in times of public health crisis, such as widespread disease outbreaks.

Regular and High Dose flu vaccine is available everyday at the Pickens Health Department with no appointment necessary. Regular vaccine costs $22.00 and high dose is $50.00 (for those 65 and up only). Cash, checks, Medicare, Medicaid and Aetna, Blue Cross/Blue Shield, State Cigna and State United Healthcare Insurance will be accepted.

Regular office hours are:

Monday, Wednesday, Thursday
7:30 a.m. - 4:30 p.m.

Tuesday 7:30 a.m. - 7:00 p.m.

Friday 7:30 a.m - 1:00 p.m.

For more information about influenza vaccination, please contact the Pickens County Health Department at (706) 253-2821 or log onto www.cdc.gov/flu.


MORE NEWS ------ BACK TO PICKENS COUNTY HEALTH DEPARTMENT