COMMUNITY THRIFT STORE - A GREAT 2013
ADVERTISEMENT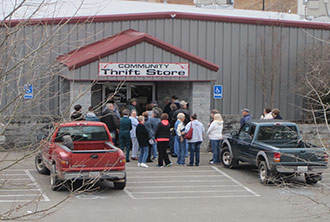 Just five minutes until opening. Customers wait for the doors to open so they can take advantage of the great values offered at the Community Thrift Store.

ADVERTISEMENT


2/17/2014 ~ by Don Russell

The Community Thrift Store had records sales in 2013 finishing with an increase of over 40 thousand dollars over 2012. The community supports the store with its donations, volunteers and sales. Store profits of over 3.8 million dollars have been returned to the community through grants to local organizations that help those in need. The store is non-profit so it belongs to the community and its vision is to help those in need.

Everything that is sold or given away at the store is donated, nothing is purchased. Items may be donated at the store at any time. It is always best to make donations when the store is open and someone is available to help and give a tax receipt. This also maximizes the benefits of the donor's donation by insuring that it receives prime attention and processing if the donation is made during the time volunteers are present. Donations made when the store is closed may be dropped down the chute that goes into the store. Larger donations may be placed on the receiving dock. Items left in this area are subject to be damaged by the weather or stolen. The area is monitored by cameras and law enforcement.

The lifeblood of the store is its volunteers. No one is paid. Volunteers operate every area of the store. Normally between 30 and 40 volunteers operate the store daily. About half of these are performing community service for a variety of reasons. The Timothy House also provides 2 – 4 helpers each day. The bulk of the heavy lifting and moving of items is done by these helpers. We could not operate without these workers. New volunteers are always welcome.

The store is divided into 4 work areas. They are receiving/sorting, processing/pricing, sales floor and cashier area. All are managed by volunteers who work together to form a very efficient operation. Clothing items in excess of what is needed on the floor are shipped overseas to areas that have a great need for used clothing.

If you have thought that you would like to do something that would benefit Pickens County residents, the Community Thrift Store can find a volunteer activity that would provide you with this opportunity. People with many different interests and abilities are needed to make this venture a success. It takes many willing hands to keep this operation going. Volunteering is very gratifying. Volunteer times can be as often, as long or as short as fits your schedule. Some volunteers appear for 2-4 hours one day a month or twice a week and everything in between.

The store just celebrated its 14th anniversary and we are very excited about its future. The need for the services offered by the store continues to be important to this community. Volunteers are needed to continue operation and growth of the business. We have a place for almost everyone that is at least 17. The work can be hard but the rewards make it well worthwhile. It is a joy to know that you are helping individuals in your community. Call Don Russell at 770-894-3246 to volunteer or just stop by the store and offer to help.



MORE NEWS ------ BACK TO COMMUNITY THRIFT STORE