BAT WATCHERS WANTED FOR DNR SUMMER MONITORING PROJECT
ADVERTISEMENT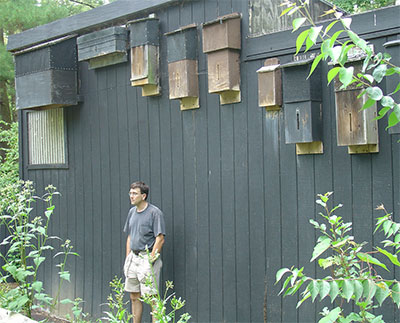 Photo by Trina Morris/Ga. DNR

ADVERTISEMENT


6/14/2014

(SOCIAL CIRCLE, Ga.) – You've probably seen bats feeding around lights in your neighborhood or dipping across a country road in front of your headlights.

But are you seeing them as often as you used to years ago?

Biologists with the Georgia Department of Natural Resources are concerned that bat populations may be declining, especially since white-nose syndrome – a fast-spreading disease fatal to bats – was detected in the state last year.

Now, Georgians can help monitor bats in their area.

'Got bats in a bat house, barn or other structure? Consider participating in the summer emergence counts project led by DNR's Nongame Conservation Section.

"Emergence counts are one of the easiest ways to estimate bat numbers at summer roosts," said wildlife biologist Trina Morris, who studies bats and coordinates monitoring for the Nongame Conservation Section, part of the DNR Wildlife Resources Division.

"You can invite your friends over to enjoy the show and take advantage of the natural pest control the bats are providing."

Joining in is easy. Download instructions and a form to fill for each count at www.georgiawildlife.com/Bat-Roost-Monitoring. Participants are asked to complete the emergence counts for a roost twice during summer – although more counts are welcomed!

Morris hopes Georgians statewide will get involved. The project mirrors programs in Pennsylvania and Wisconsin. Emergence count surveys rate even more important because of the potential impact of white-nose syndrome, which has been documented in 25 states. Learn more about white-nose at www.georgiawildlife.com/WNS and www.whitenosesyndrome.org.

If you don't have a bat roost and want to build one, Bat Conservation International offers instructions at www.batcon.org. Kits and completed boxes built in Georgia are available at Habitat for Bats, www.habitatforbats.org.

Bats are picky so make sure you follow the instructions for building and placing a bat box to give you the best chance for attracting bats. Maybe someday soon you'll be spending some pest-free summer evenings counting your bat colony!


MORE NEWS ------ BACK TO GEORGIA DEPARTMENT OF NATURAL RESOURCES