Democratic U.S. Senate Candidate Michelle Nunn Meet 'n Greet

If elected, she would be Georgia's first woman U.S. Senator
ADVERTISEMENT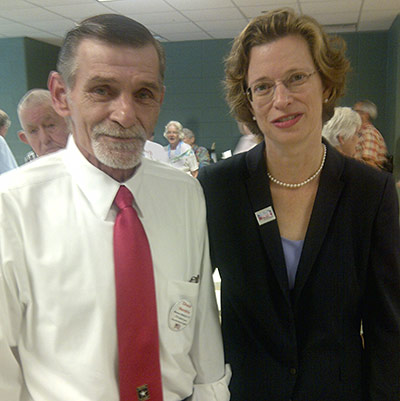 Chuck Hendrix, candidate for state House District 11 and Michelle Nunn

ADVERTISEMENT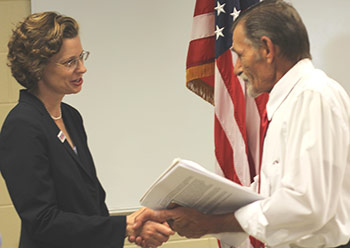 Michelle Nunn and Chuck Hendrix. Photo provided by Michelle Nunn's Campaign


6/24/2014

Democratic U.S. Senate candidate Michelle Nunn tour of counties in North Georgia stopped in Pickens County last Thursday, June 19 for a Meet 'n Greet. Close to 50 people were in attendance at the Pickens County Community Center in Jasper.

David Robinson, chair of the Pickens County Democrats made the following introduction for Michelle Nunn.

"Michelle was born in 1966 in Macon to Colleen and Sam Nunn. Her father, of course, would become a long-serving U.S. Senator. Michelle lives in Georgia with her husband, Ron, and two children, Vinson and Elizabeth.

Michelle graduated Phi Beta Kappa from the University of Virginia, then returned home to Georgia; where she and a group of friends got together to create Hands On Atlanta, a vehicle by which young people could engage in service to solve problems in their own communities. Michelle was the first Executive Director of Hands On Atlanta; and over the next decade, she grew volunteerism across Georgia, and eventually throughout the country, through Hands On Network, a national outreach of volunteer-service organizations.

In 2007, Hands On Network merged with the Points of Light Foundation. Michelle became the CEO and President of Points of Light, which is now the largest organization in the country devoted to volunteer service.

In 2009, Michelle partnered with Senators Orrin Hatch (R-UT) and Edward Kennedy (D-MA) on a milestone of bipartisan legislative achievement, the Serve America Act, legislation that provides small competitive grants to leverage and mobilize volunteers.

Michelle now also holds a Master's Degree in Public Administration from Harvard's Kennedy School of Government."

After her introduction, Michelle spoke for a few minutes on a number of issues, then took questions from the audience.

The general election will take place on November 4, 2014. If Michelle is elected, she will be Georgia's first woman U.S. Senator.






MORE NEWS ------ BACK TO PICKENS COUNTY DEMOCRATIC PARTY