Former Jasper Methodist Pastor Herb Flanders authors 'The Perfect Gift'
ADVERTISEMENT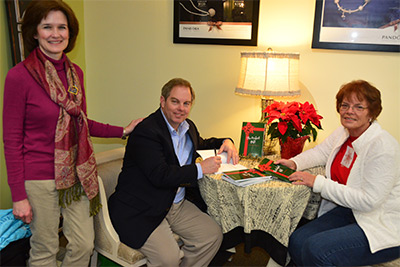 Regina Flanders and Reverend Herb Flanders with Belinda Howard at Flanders' book signing at Clock Tower Gifts.
12/24/2014 ~ by Max Caylor

"My book is a collection of short, simple, heart-touching reflections wrapped together to share the one Perfect Gift of Christmas," said the pastor. He was in Jasper signing books at Clock Tower Gifts.

The title of the book comes from pastor Flander's own Christmas experience. "I share Luke2:1-20 in full so it might reverberate in your heart and soul as you seek to receive 'a savior, which is Christ the Lord'", writes the pastor.

The book is dedicated "to some special United Methodist Churches -Bethany-Cannon, Lanier, Jasper, Highland, Hanleiter and Thomaston First." Flanders now lives in Thomaston with his wife Regina and sons, Miles and Cole, both students at UGA, where he serves as pastor of the First United Methodist Church of Thomaston.

Reverend Flanders is a graduate of the University of Georgia and the Candler School of Theology at Emory University. "The Perfect Gift A Christmas Collection" is available at Clock Tower Gifts downtown Jasper and cost is $10 per copy.



MORE NEWS ------ BACK TO JASPER UNITED METHODIST CHURCH