Reinhardt University hosted the Chamber January Breakfast
ADVERTISEMENT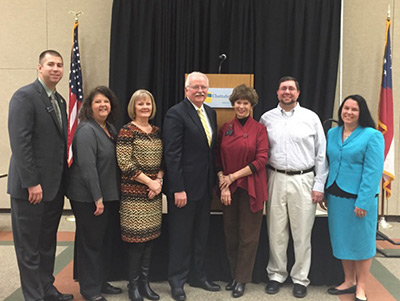 LR: Jeffery Pouchier, Marsha White, Dale Morrissey, Dr. J. Thomas Isherwood, Jo Ellen Wilson, Huitt Rable and Dr. Kathy Hyatt
2/4/2015

The Pickens County Chamber of Commerce held their monthly breakfast meeting on January 13th at 7:00 am with breakfast served by Madeline's Cafe & Bakery/Coast 2 Coast Catering.

Reinhardt University was the sponsor and Dr. J. Thomas Isherwood, President of Reinhardt University spoke to over 180 in attendance.

Community Bank of Pickens County is our Small Business of the Month Sponsor and presented Trophy's & T's with the January Small Business of the Month Award.

The Chamber of Commerce Ambassador Matt Youngblood with WYYZ welcomed new Chamber members: Shottenkirk Ford and Coach's Cuts LLC.

The Pickens County Chamber of Commerce hosts a monthly breakfast on the 2nd Tuesday of each month with the next scheduled breakfast, Tuesday, February 10th. This is a great opportunity for members to network and make great business connections.

For more information about the breakfast, or any other events hosted by the Chamber, please call 706.692.5600.



MORE NEWS ------ BACK TO PICKENS COUNTY CHAMBER OF COMMERCE