Dollar Tree's Ribbon Cutting Ceremony
ADVERTISEMENT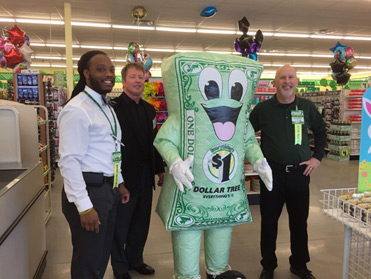 L-R: Manny Dukes III, District Manager, Jeff Denard, Regional Sales Manager, Doug Catlett, Store Manage)
3/1/2015

Dollar Tree recently held a Ribbon Cutting Ceremony Saturday, February 28th for their new store located at Old Philadelphia Road, Jasper (across from Walmart).

Dollar Tree is stocked with a variety of products including national, regional, and private-label brands. Departments found in a Dollar Tree store include health and beauty, food and snacks, party, seasonal décor, housewares, glassware, dinnerware, household cleaning supplies, candy, toys, gifts, gift bags and wrap, stationery, craft supplies, teaching supplies, automotive, electronics, pet supplies, and books. Store staff, management and town officials were on hand for the Ribbon Cutting Ceremony.

For more information on Dollar Tree or any Chamber Member contact the Chamber at 706.692.5600 or visit www.pickenschamber.com.



MORE NEWS ------ BACK TO DOLLAR TREE (STORE #5724)