North Georgia Vietnam Vets Honored
ADVERTISEMENT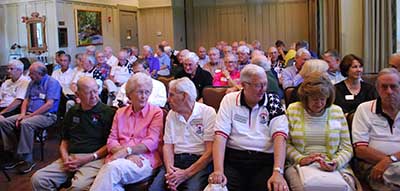 The North Georgia Veterans hosted one of the largest ceremonies in Georgia to honor Vietnam veterans.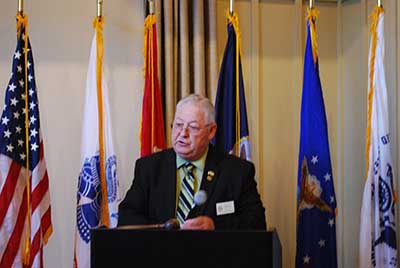 Harry West of the Georgia Department of Veterans Services speaks to the crowd gathered to honor Vietnam veterans.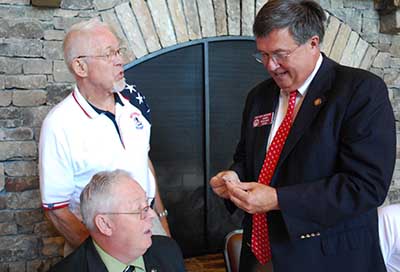 Terry Ward of the North Georgia Veterans presents to Georgia House Representative Rick Jasperse a North Georgia Veterans commemorative coin.


8/17/2015 ~ by Wayne Tidwell, wtidwell@bigcanoenews.com

The State of Georgia, like states across America, has decided to formally thank Vietnam era veterans for their service and one of the biggest ceremonies held in the state happened at Big Canoe on Wednesday, August 12.

Seventy-three Vietnam era veterans were so honored at the North Georgia Veterans meeting at the Big Canoe Clubhouse attended by Harry Evans, North Georgia Regional Director of Benefits, Georgia Department of Veterans Services; Rick Jasperse, Georgia House of Representatives, District 11; and Steve Gooch, Georgia State Senator, District 51.

Terry Ward, president of North Georgia Veterans, introduced Evans who read Georgia Governor Nathan Dealís proclamation establishing the statewide Vietnam War Certificate of Honor program.

"It is an honor to be here today on behalf of the State of Georgia," Evans said, "to honor a group of veterans who put their lives on hold when called upon decades ago."

"The program was established to achieve a goal which is both simple and elusive to show our appreciation for the service and sacrifice of Vietnam veterans. It is never the wrong time to say thank you to those who put their lives on the line for our country.

"It is elusive because in far too many cases these very men and women were never given the simple important acknowledgement. Instead many were forgotten, ignored and ridiculed and worse by their fellow Americans. I think as a nation we have learned from our mistake.

"Today we treat all those who served with the respect and gratitude they deserve and are due. Today we say a loud 'thank you' to this group of Vietnam veterans as we continue to observe the 50th anniversary of the commencement of the Vietnam War.

Each veteran honoree was called out and presented with the certificate of honor, commemorative pen and button. Each certificate is personalized with the Vietnam War veteran's name, rank, branch of service, and dates of service printed over the Seal of the State of Georgia and includes the official U.S. Department of Defenseís Vietnam War Commemorative Partner logo.

Army Lt. General Steve Arnold (retired), who was recently named to the U.S. Army Ranger Hall of Fame, was also honored and spoke to the group. He gave credit to his men and his leaders for his success and recognition. He thanked his wife on their 50th anniversary year.

"I thank my soldiers and ranger Ralph Puckett, my battalion commander in Vietnam, just a great, great soldier and wonderful mentor," Arnold said.
Evans pointed out that there are over 234,000 Vietnam War era veterans in Georgia.

"It is our hope to eventually honor every one of Georgia's Vietnam veterans," Evans said.

More information about the Georgia Certificate of Honor program and the process for obtaining recognition can be found at Veterans.georgia.gov.



MORE NEWS ------ BACK TO PICKENS COUNTY VETERANS WEBSITE